Pongal Celebrations at P.S.Senior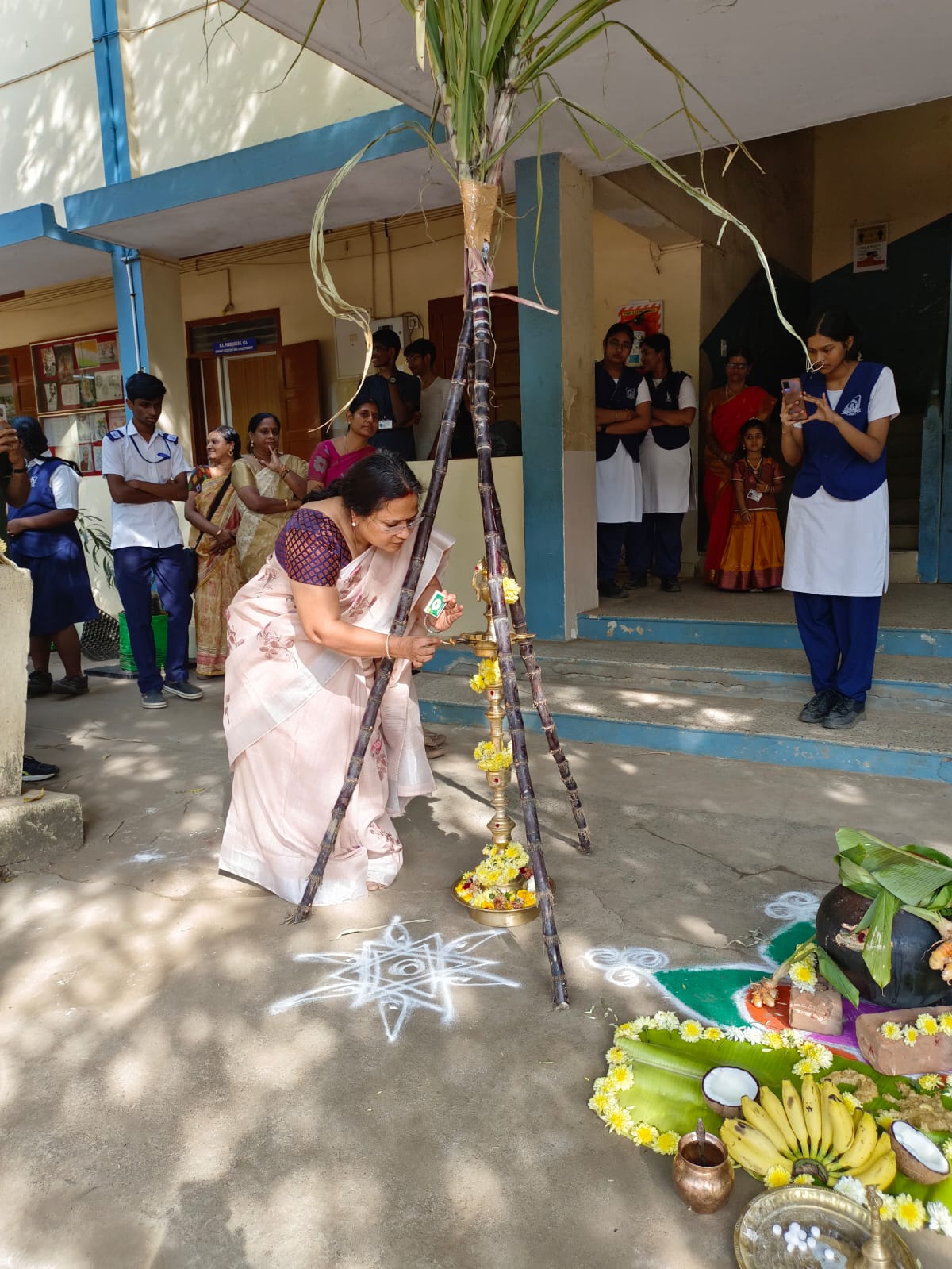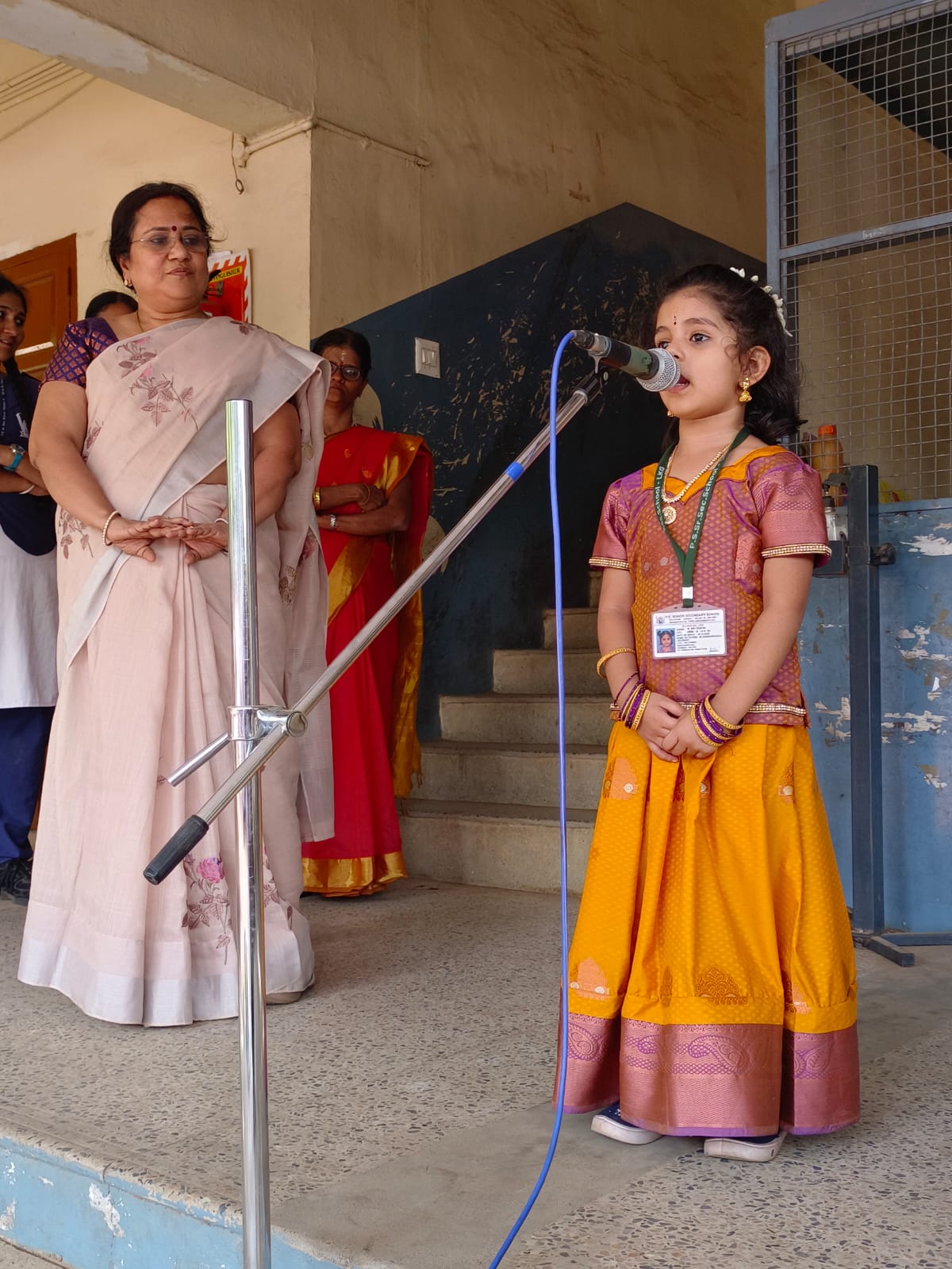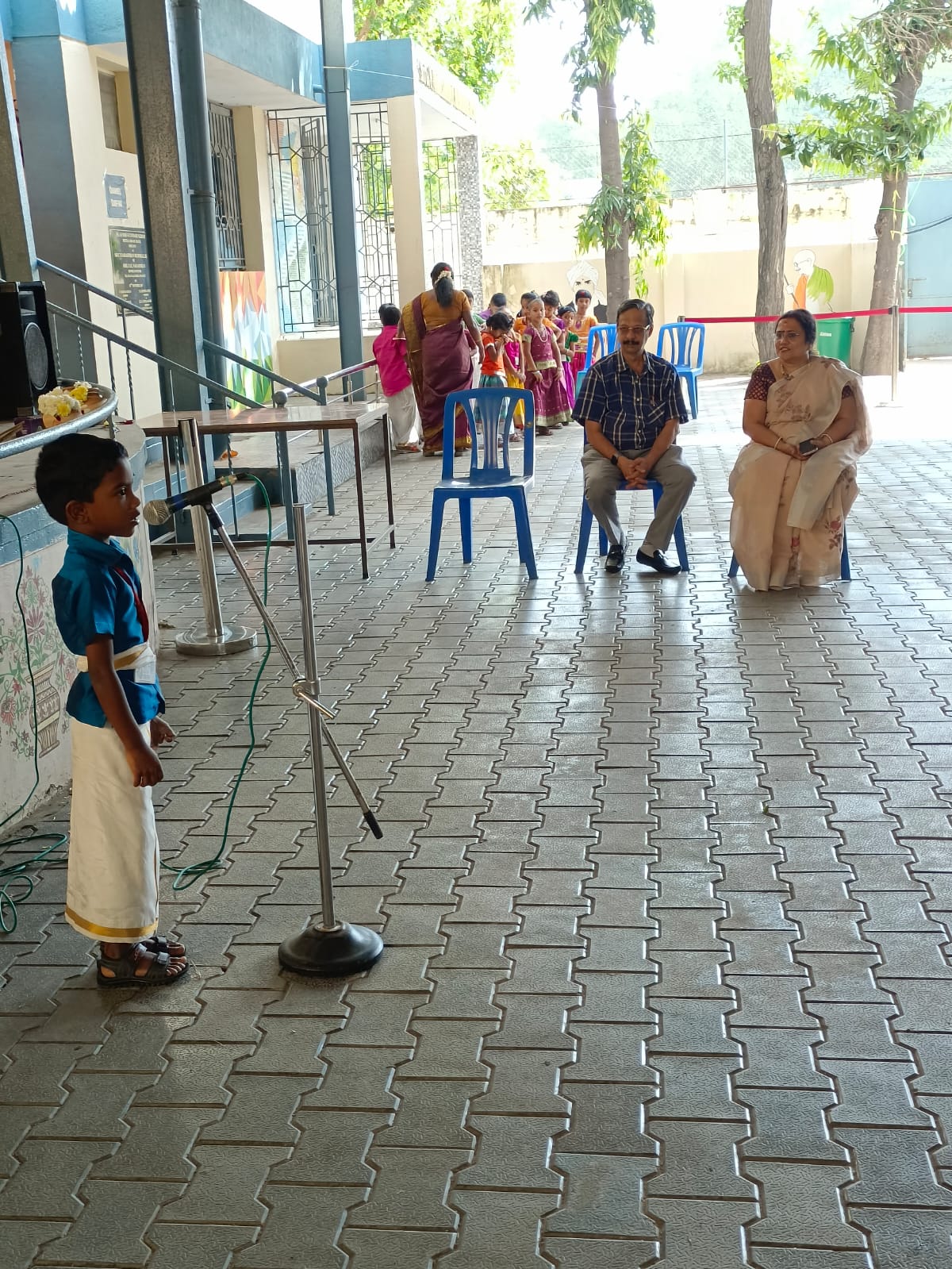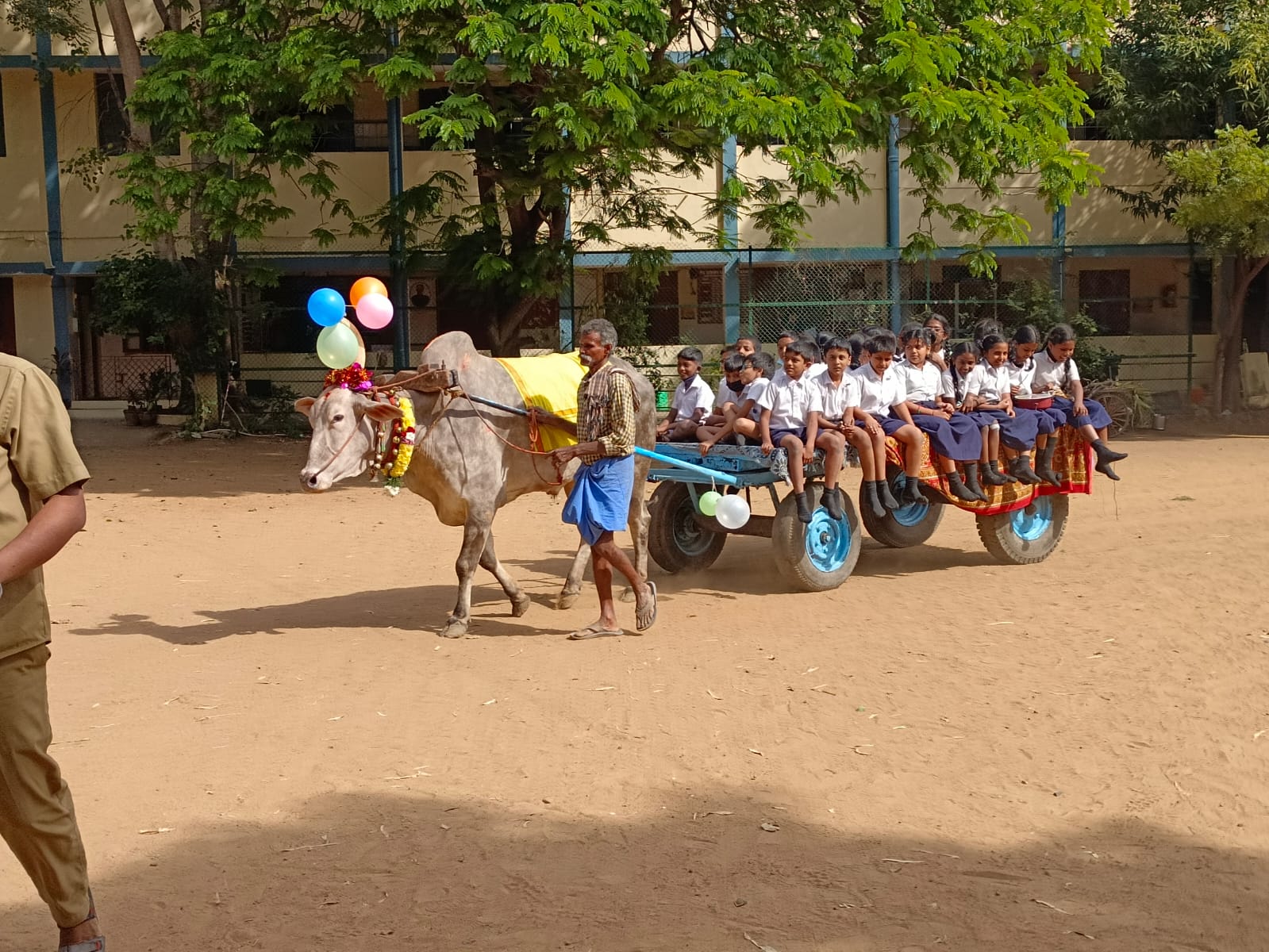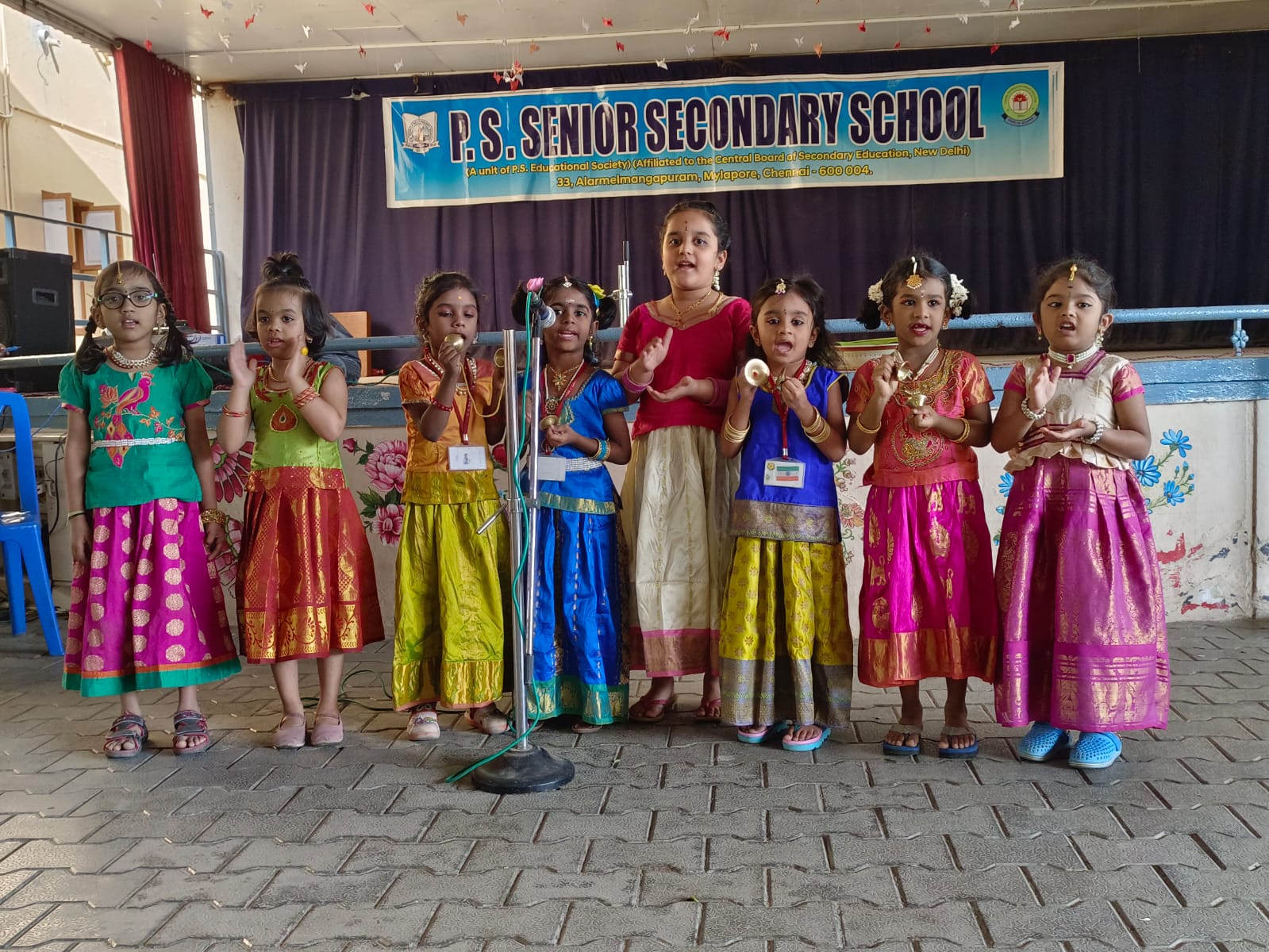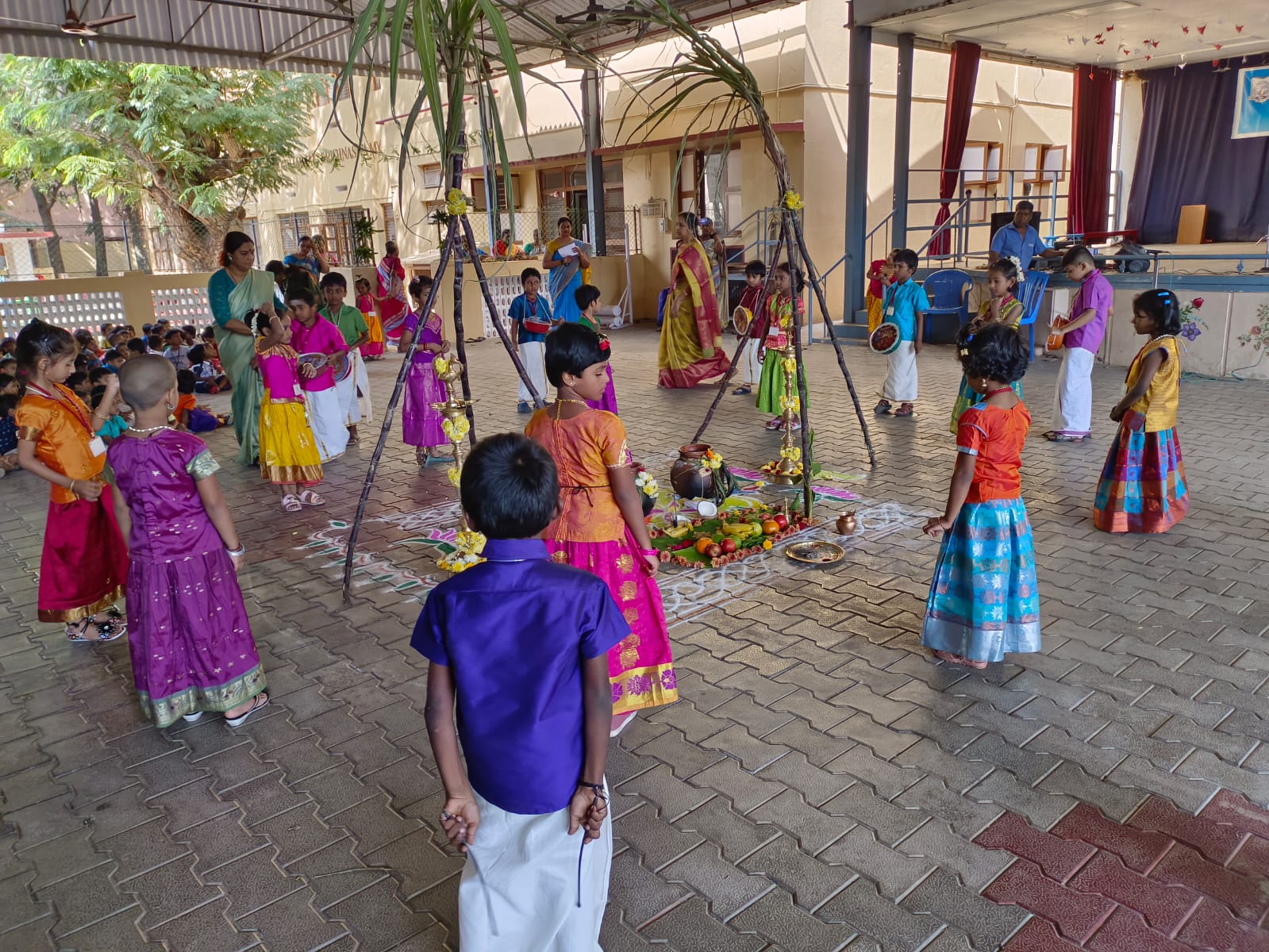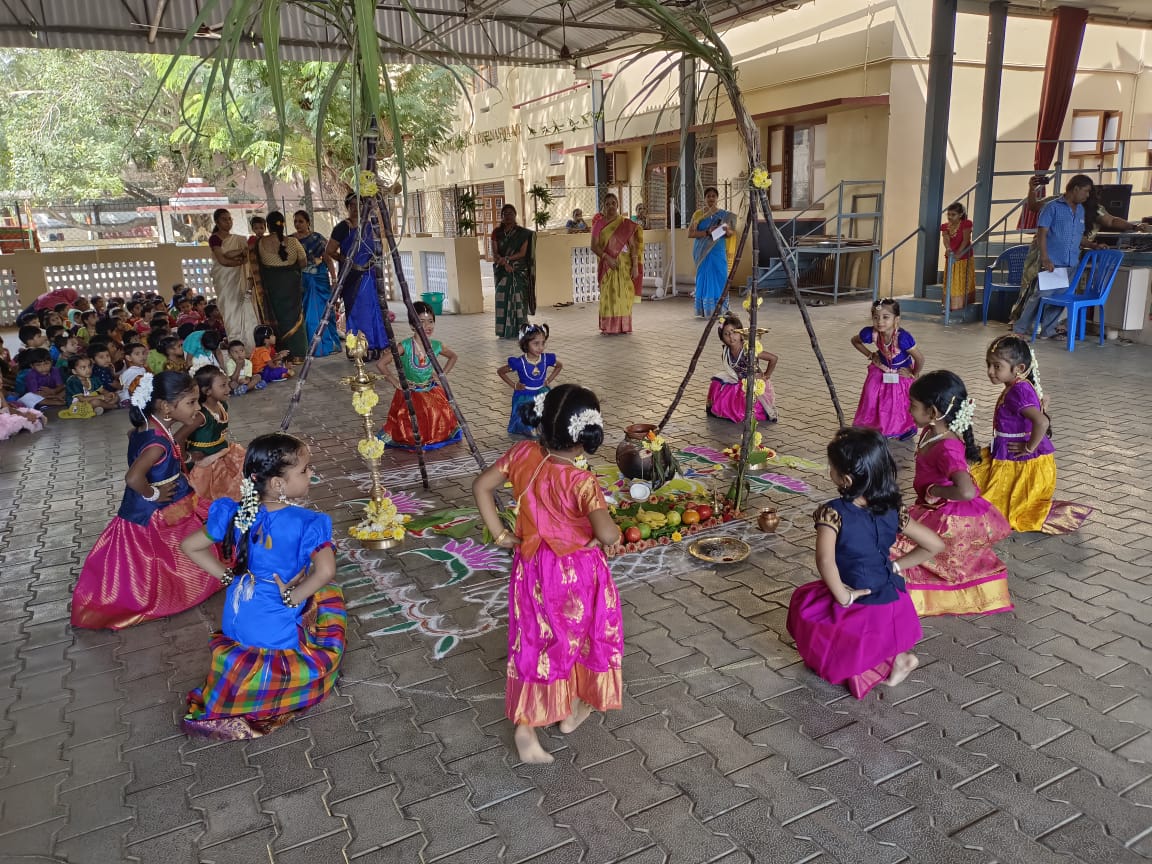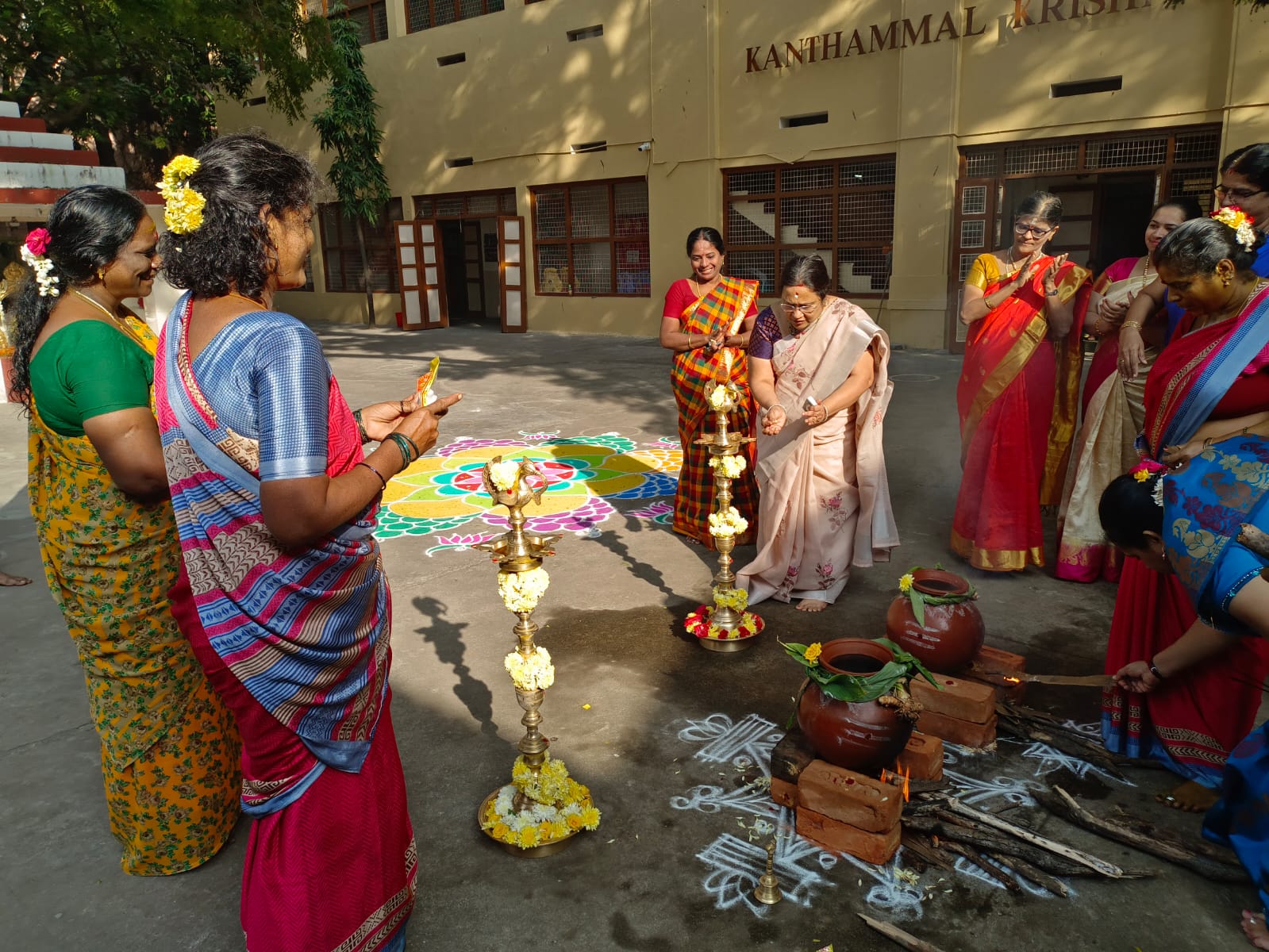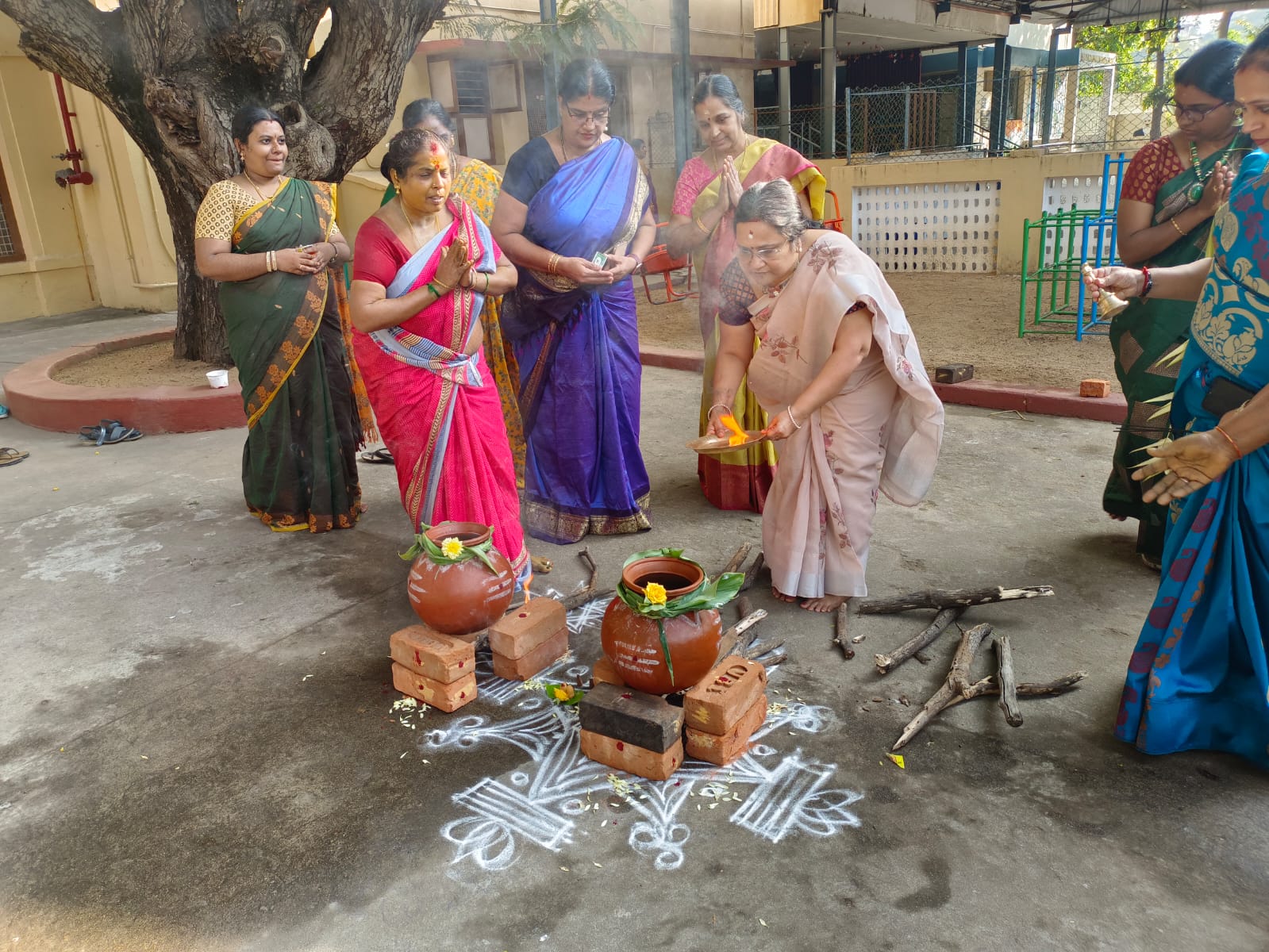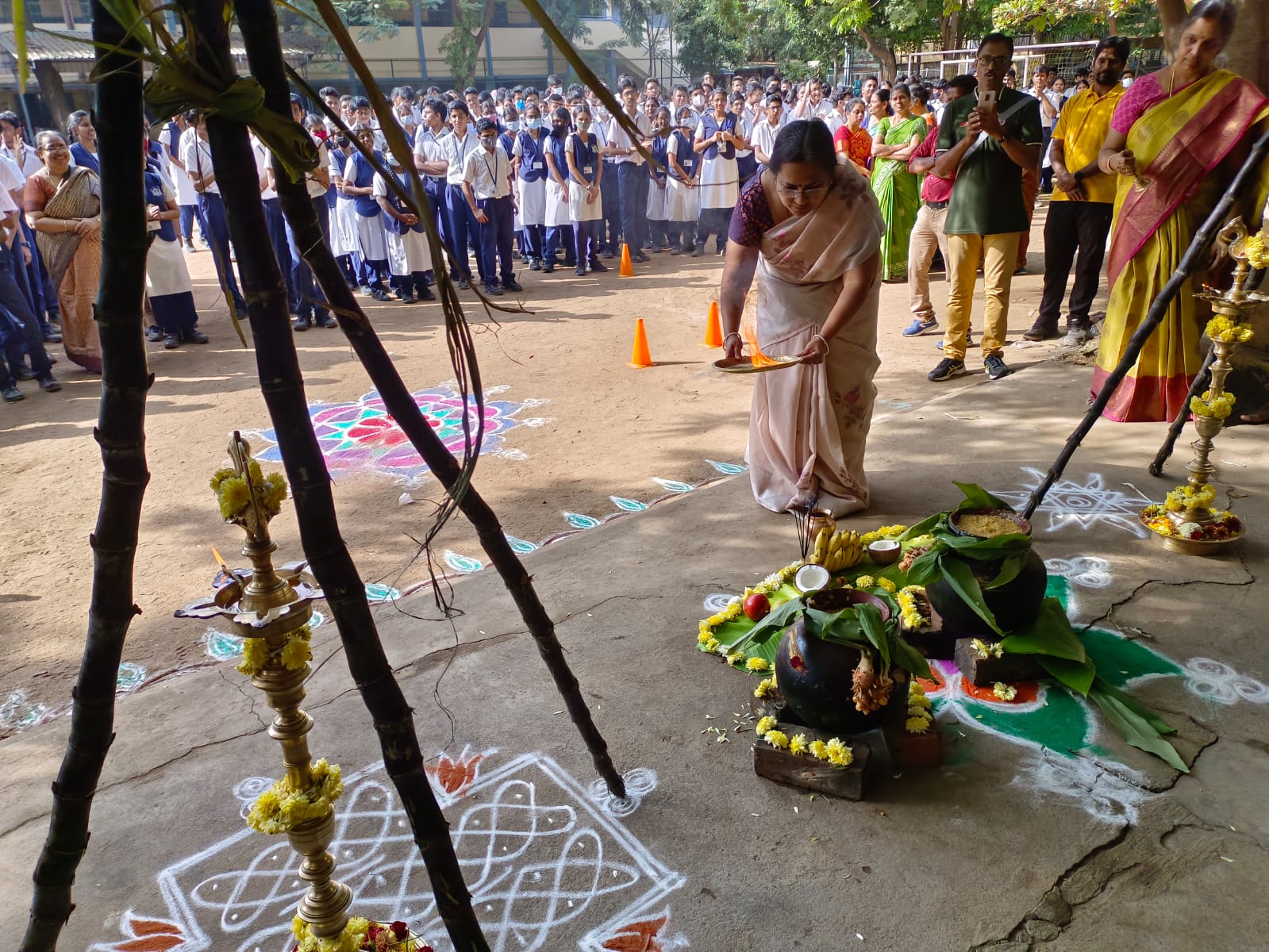 Drug Awareness Program
Mr.M.Ravi, Inspector of police,Law & order, Mylapore addressed the students of Class 9 and 10 on 06.12.2022. He spoke about drug abuse.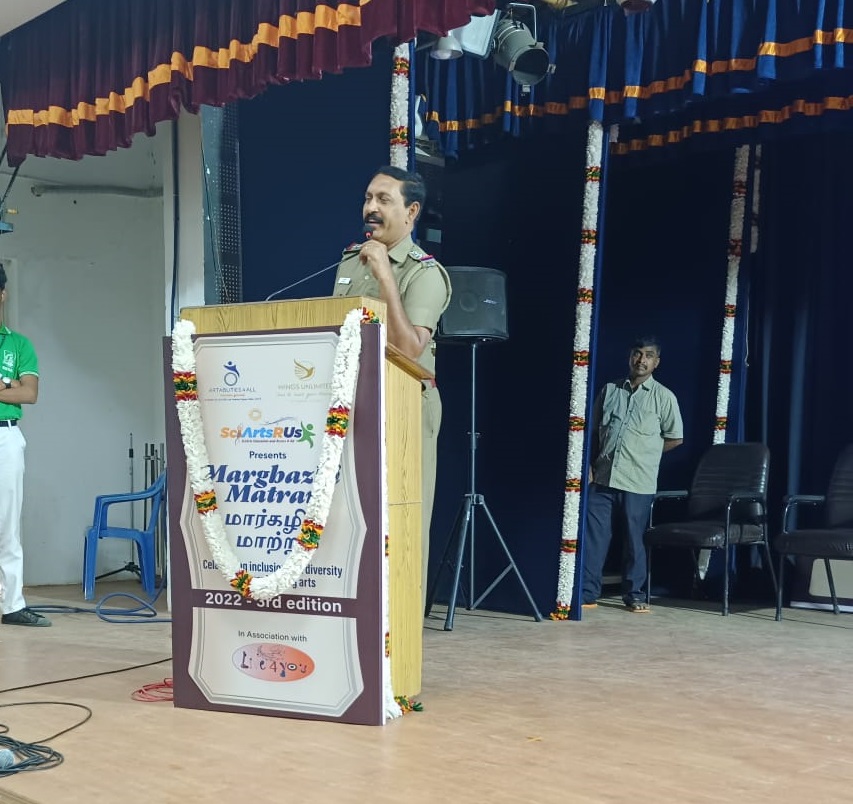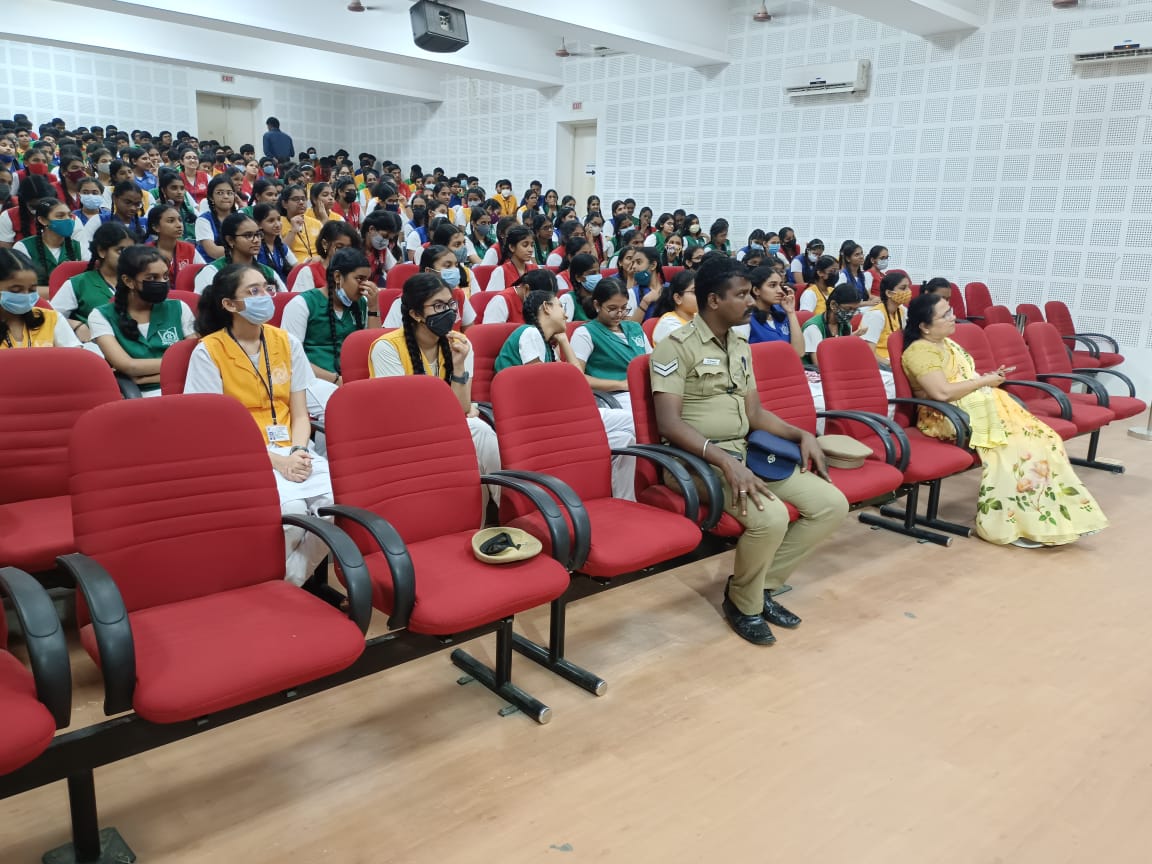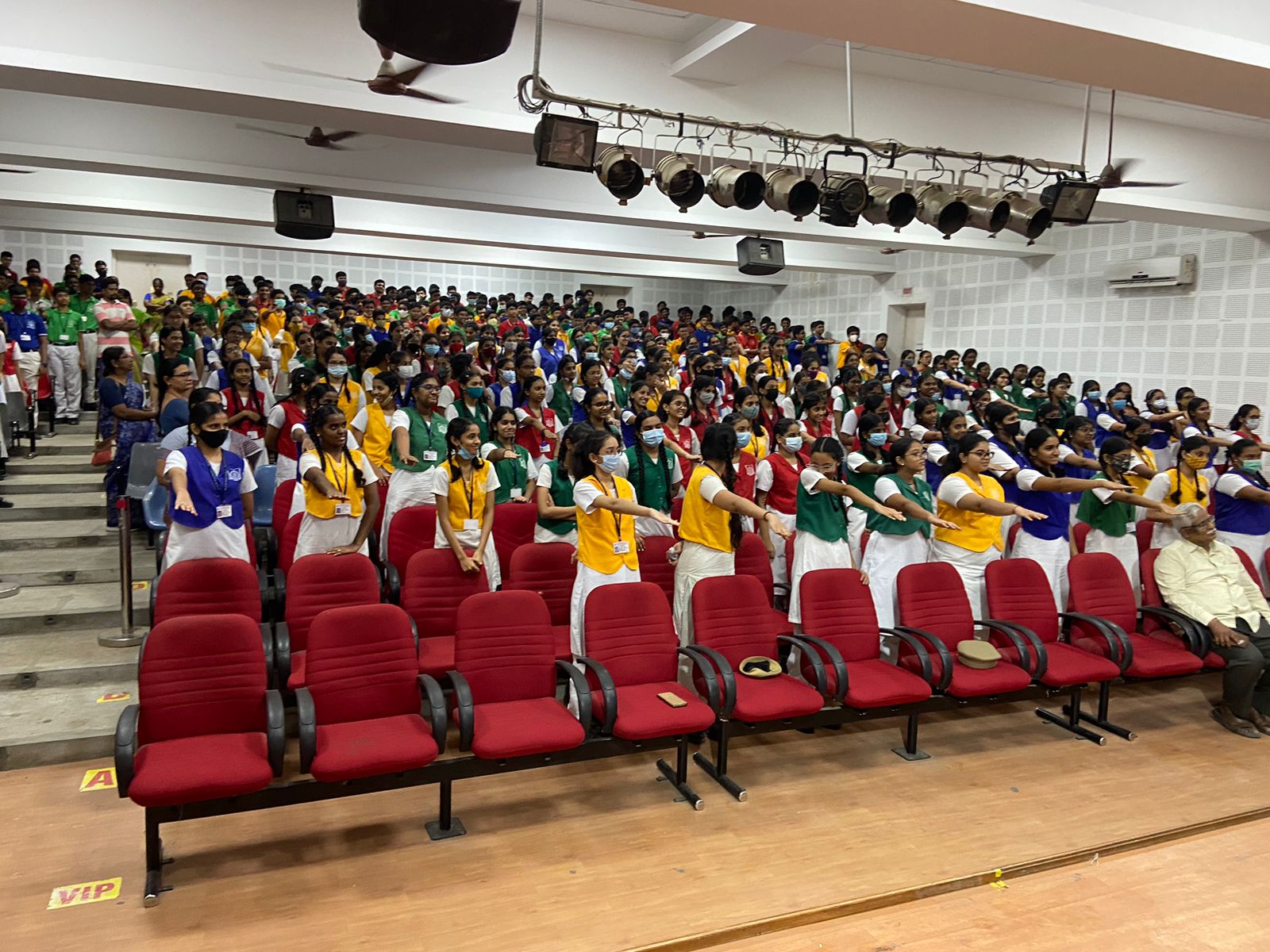 Motivational talk for Class 7 and 8 students
Shri Arul Prakasam renowned motivational speaker addressing students of Classes 7 and 8 on Education and values.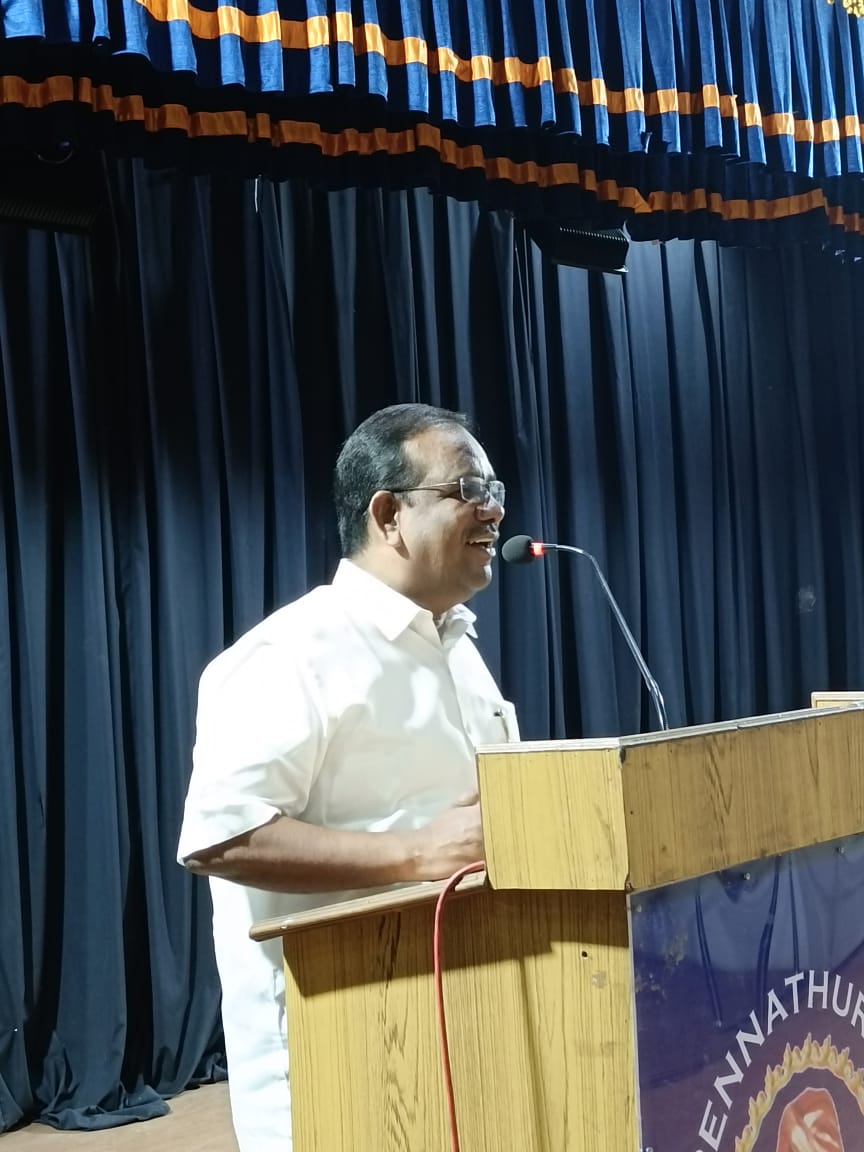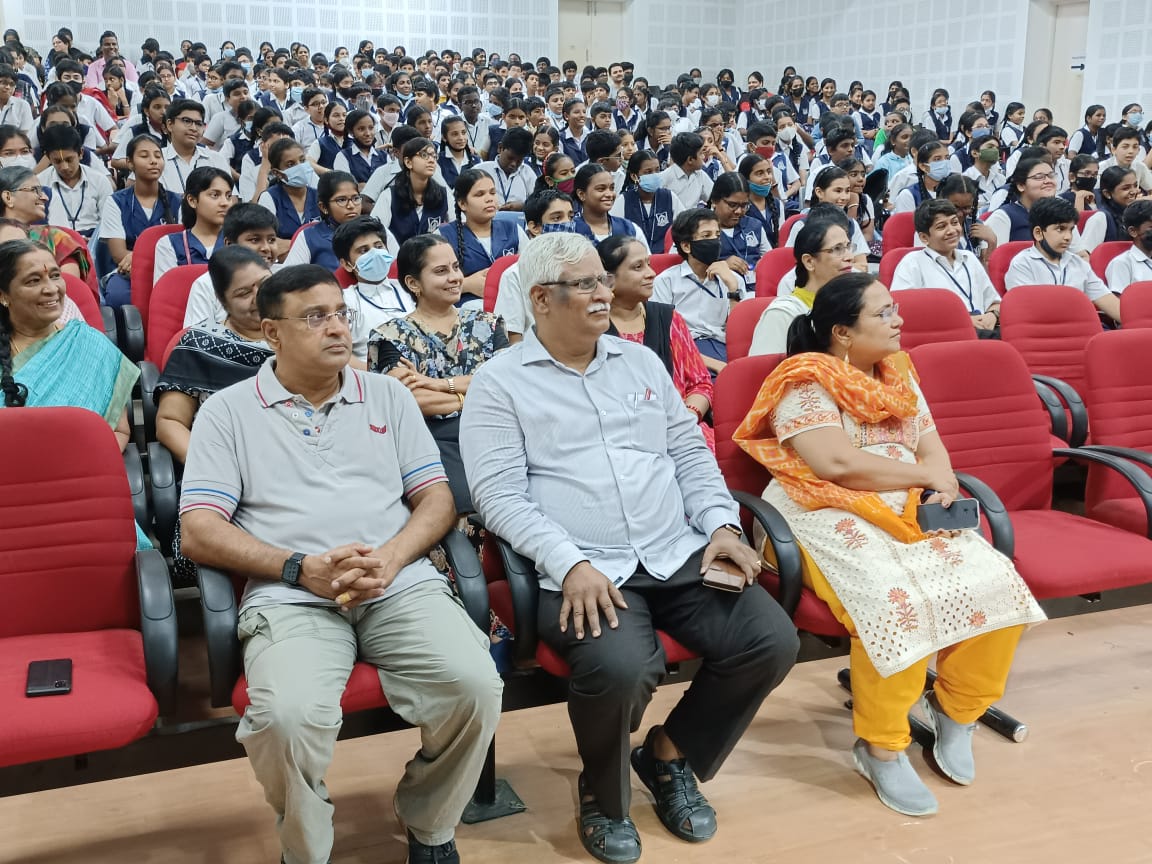 Innovation Ambassador programme for Students
Students of Classes 6 and 8 listened to an online leadership talk as part of the innovation ambassador programme.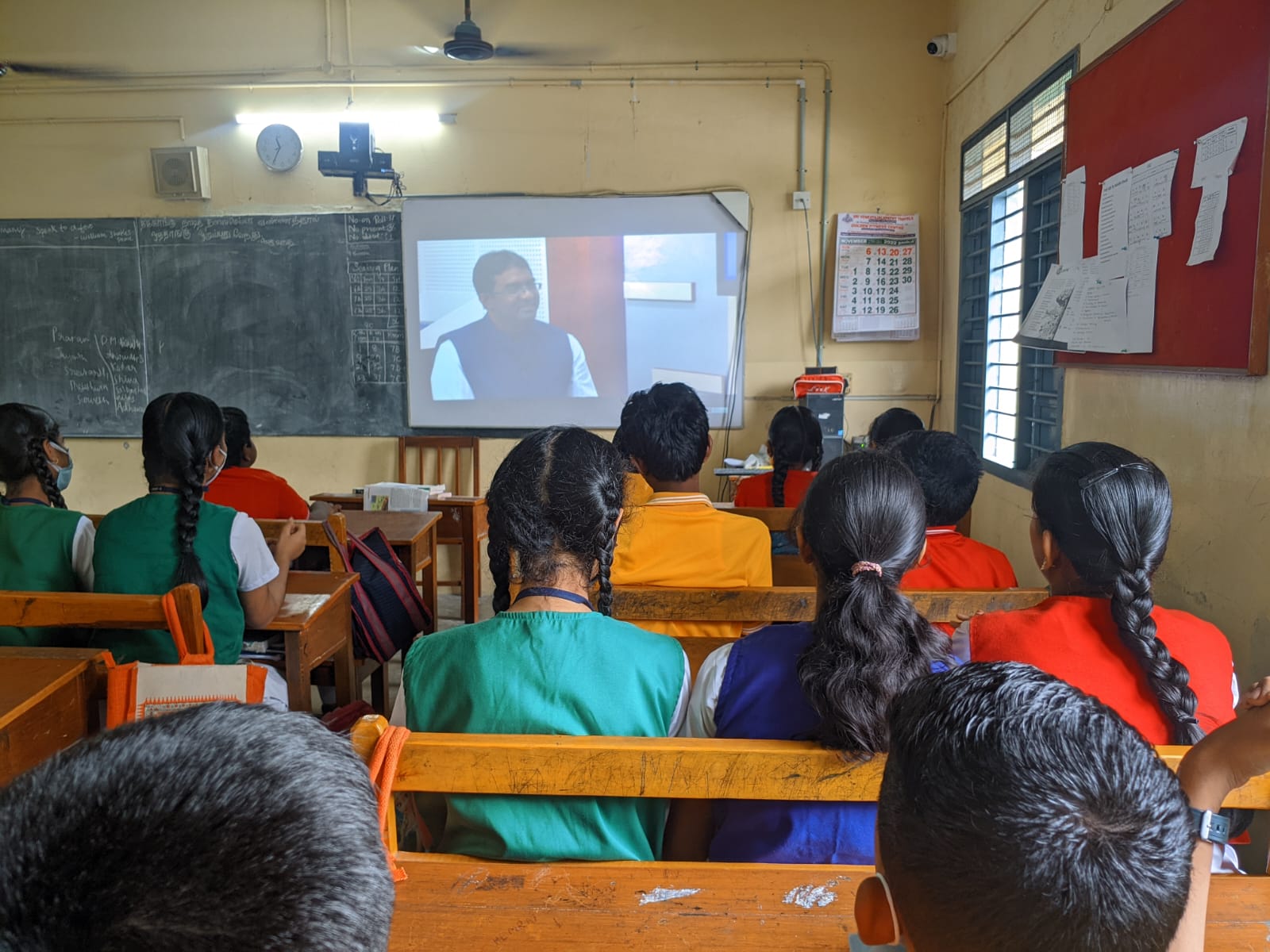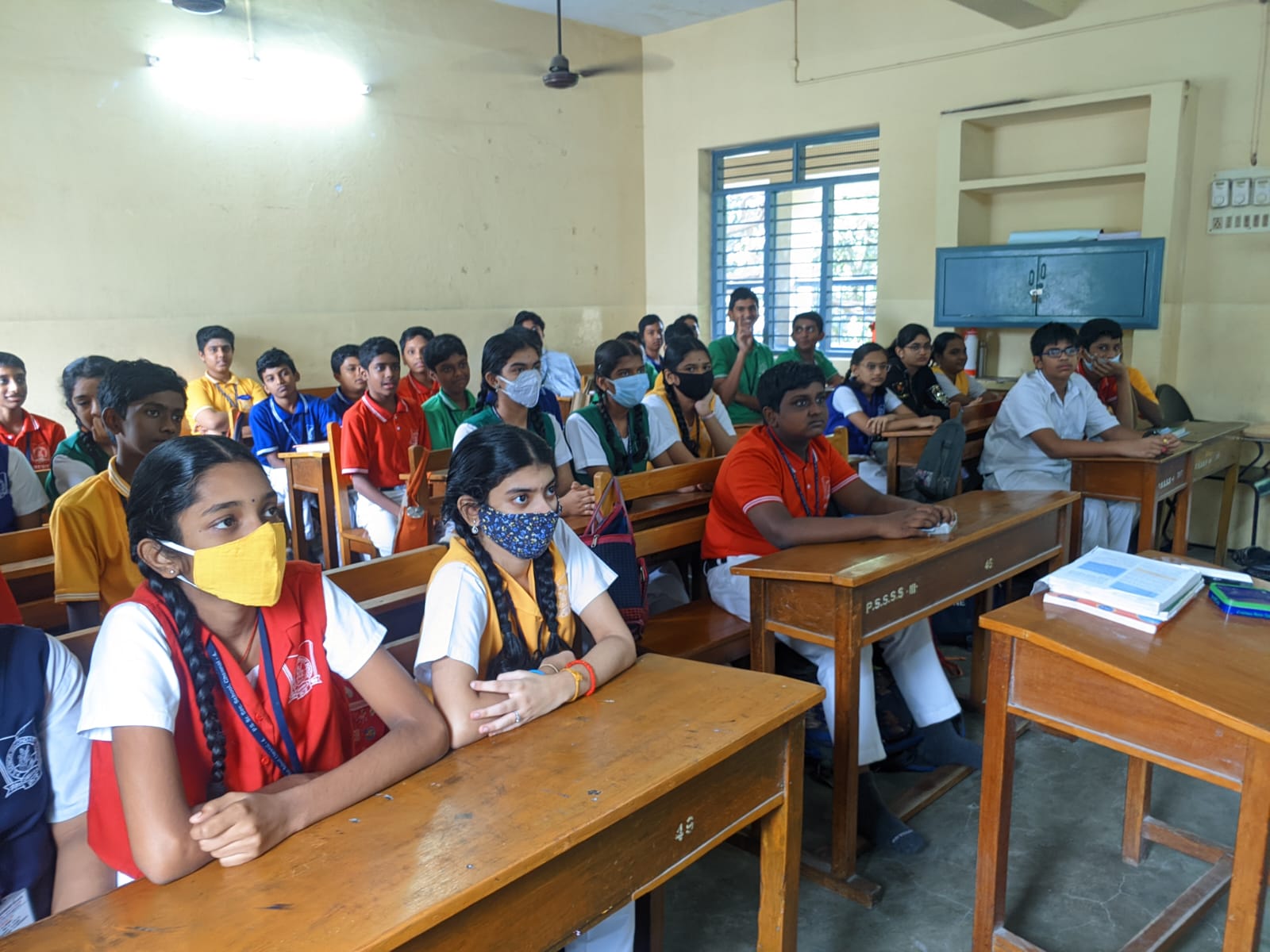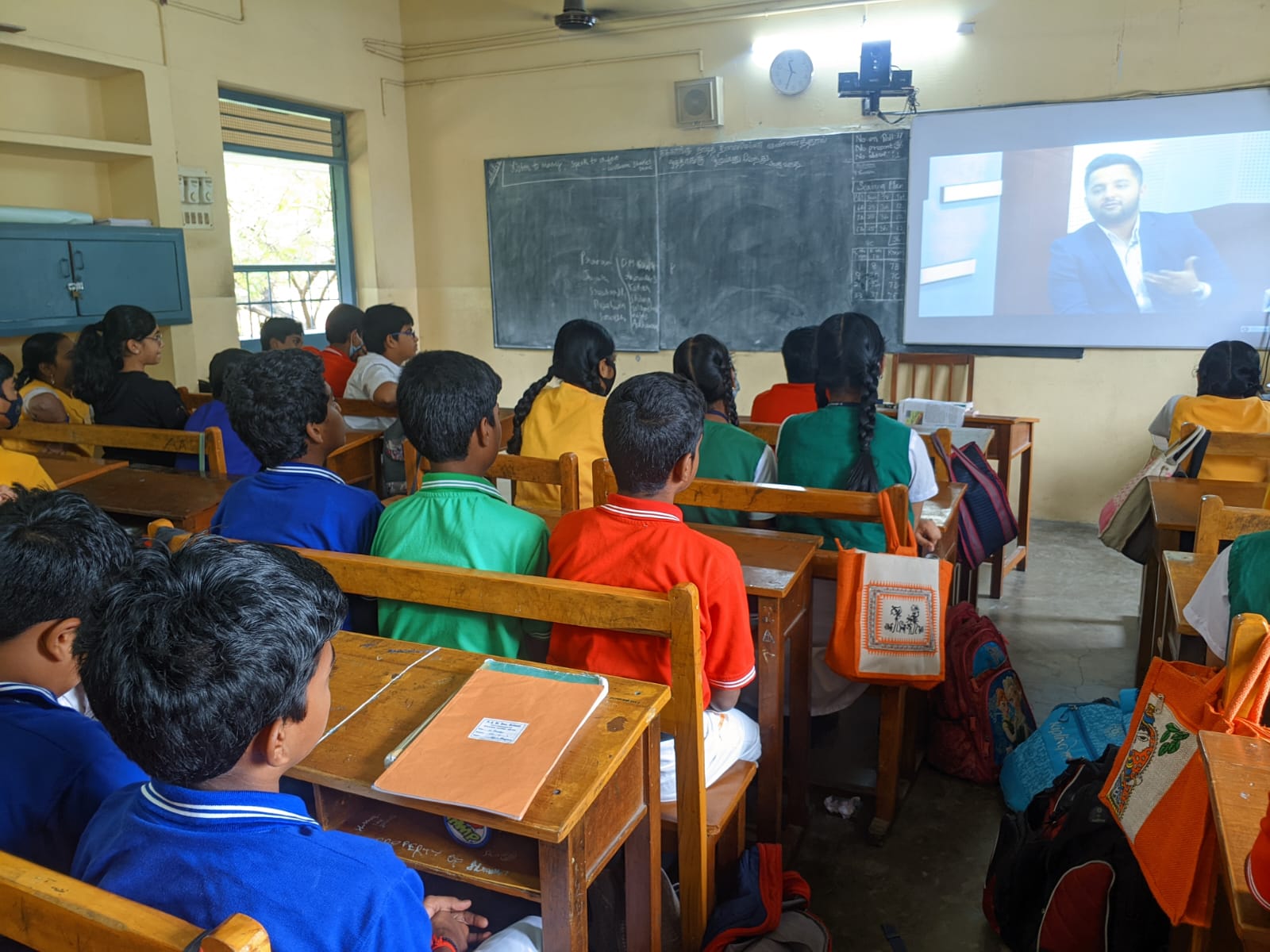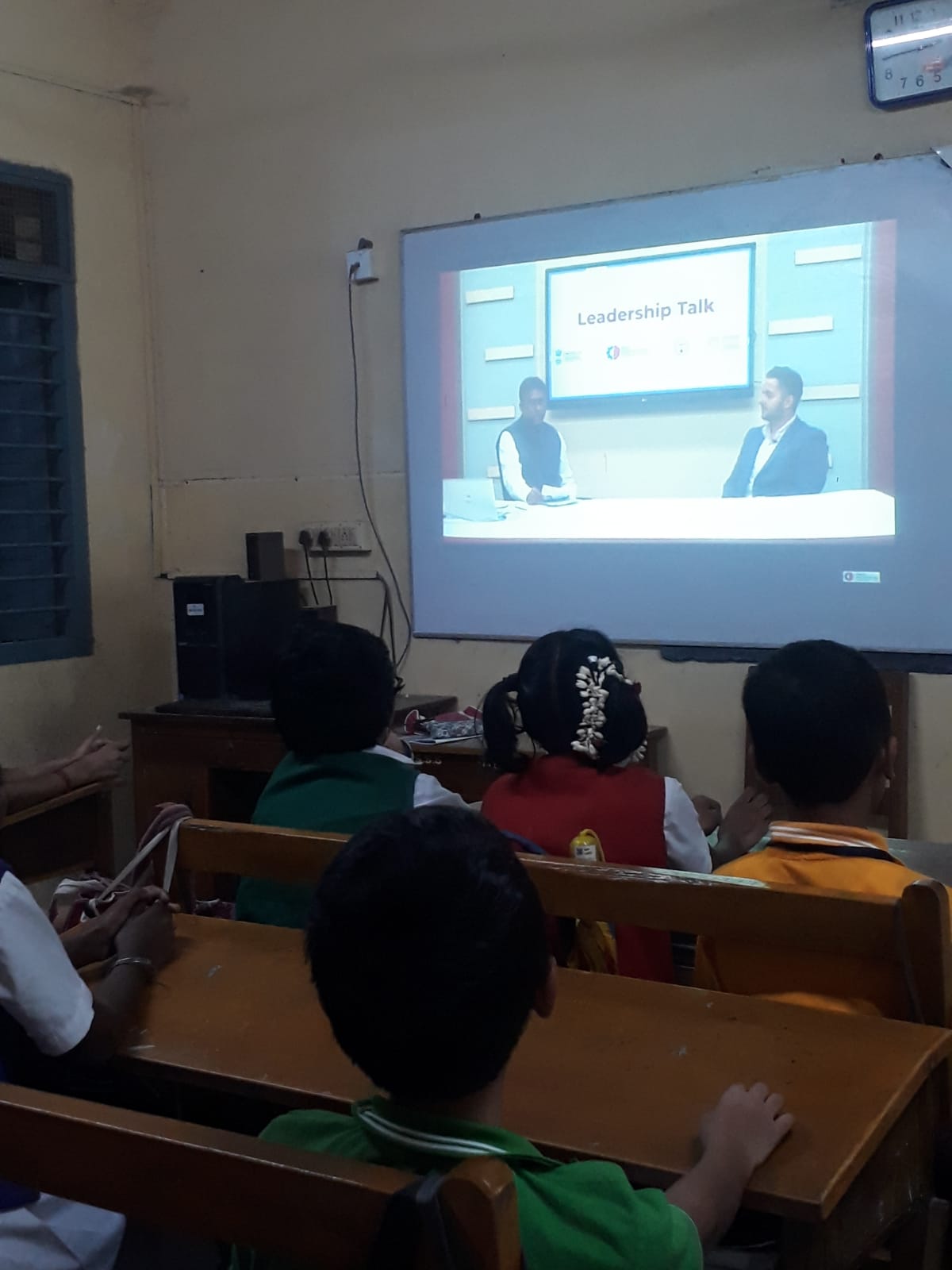 Community Outreach Program
Our School is collborating with Shastra,IIT Madras in
1) Collection of clothes for the under privileged
2) Awareness program on the perils of fast fashion and its harm to the environment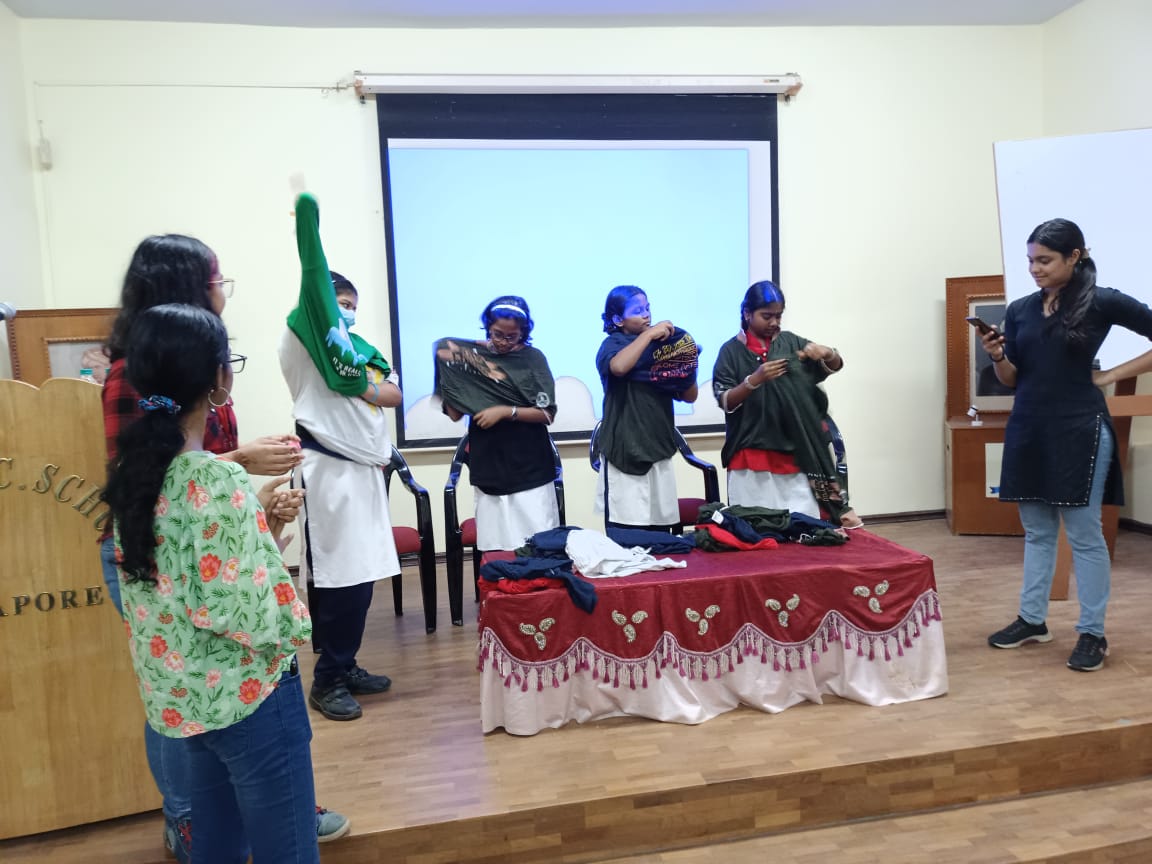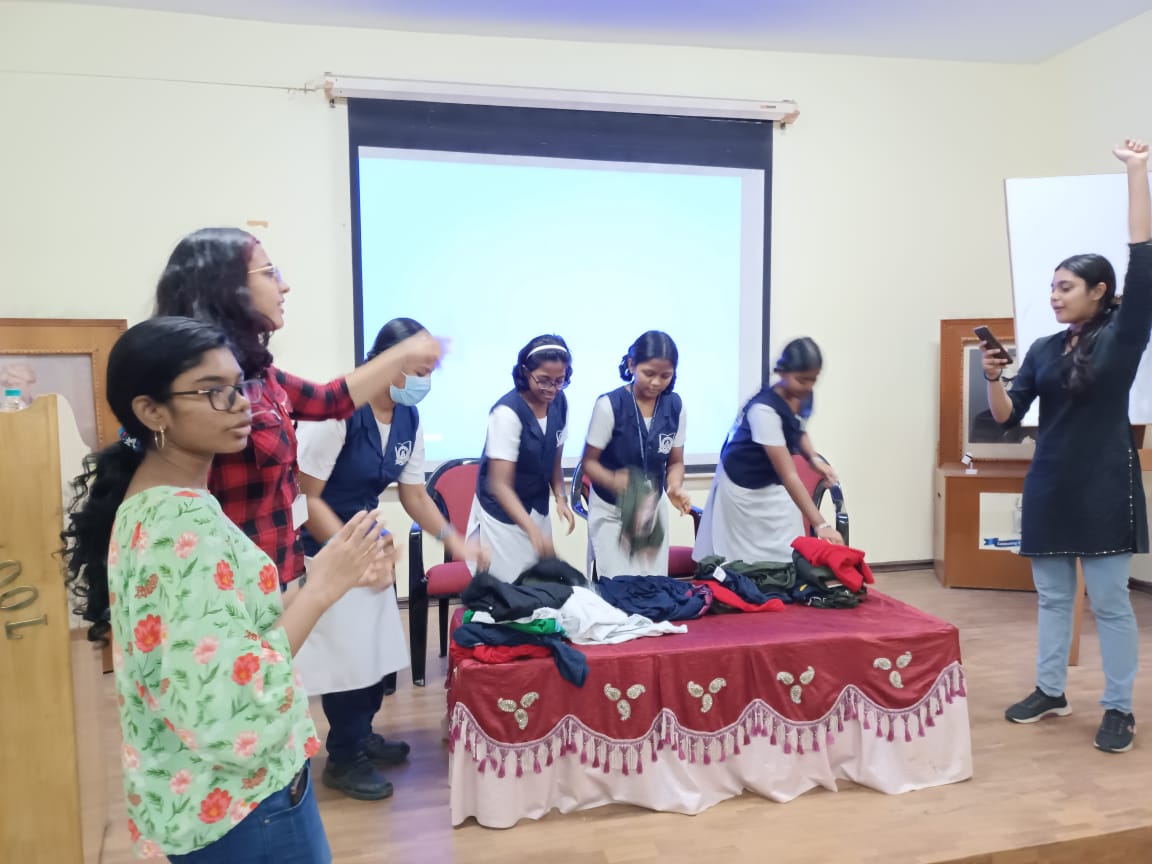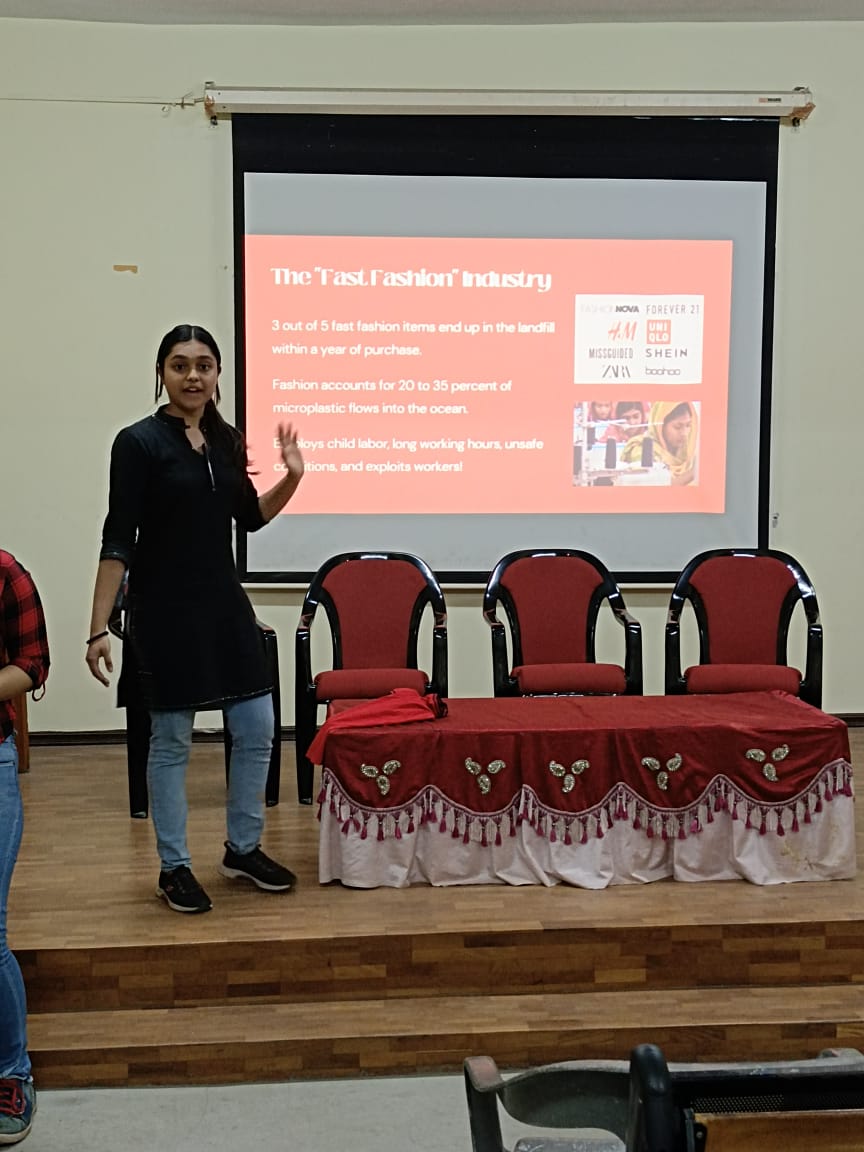 75th Independence day celebration - 15/08/2022
The 75th Independence day, Azadi ka Amrit Mahotsav, was celebrated with patriotic fervour in the school premises. Sri. A Rajasekaran, Film director and Journalist, was the chief guest. The chief guest took us on a journey to the past with his vivid narration of the sacrifices of unknown heroes of the Independence movement and the unsung soldiers of the Indian Army.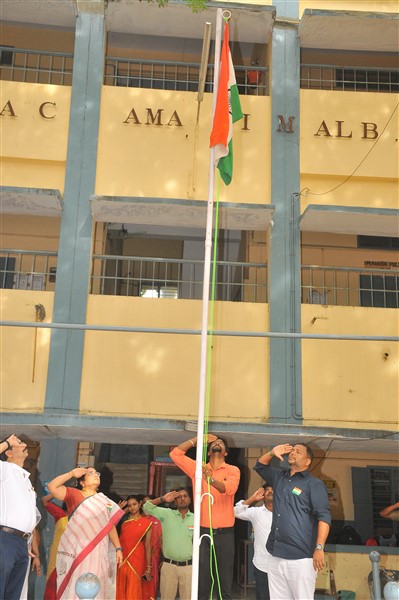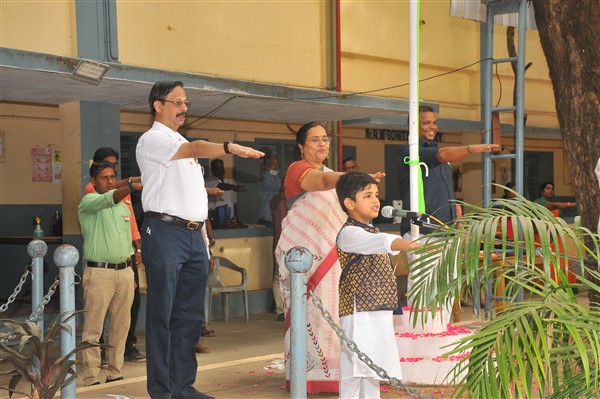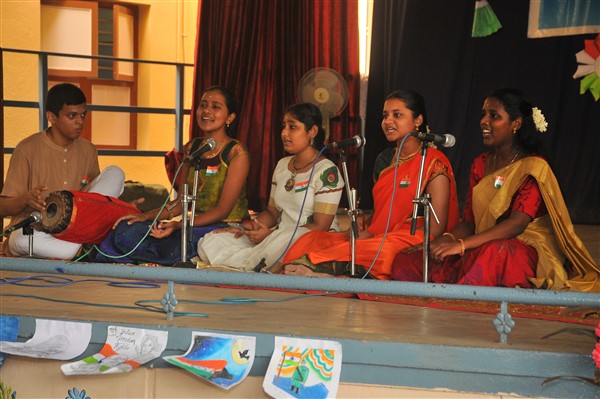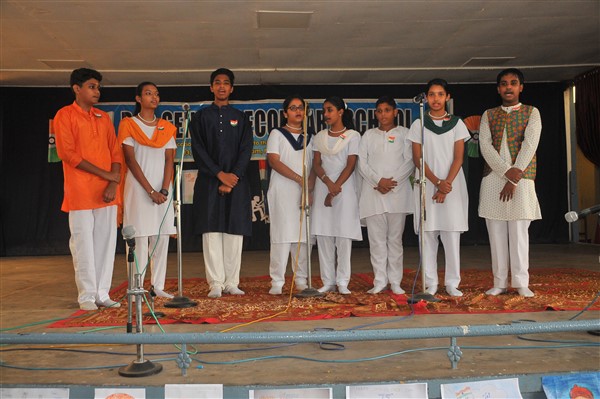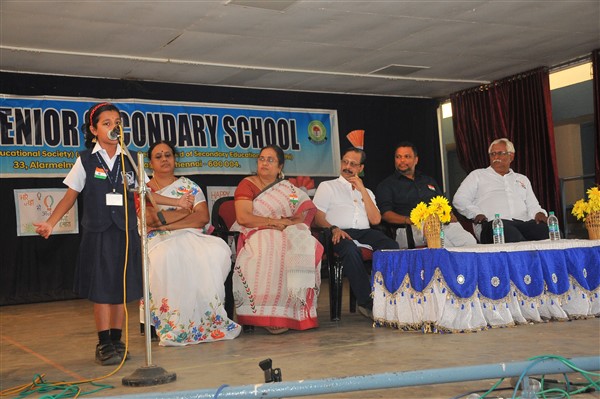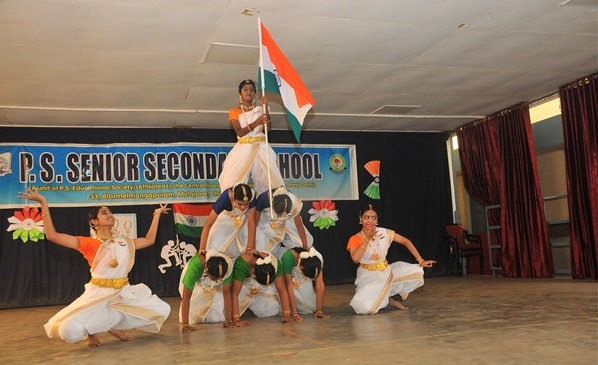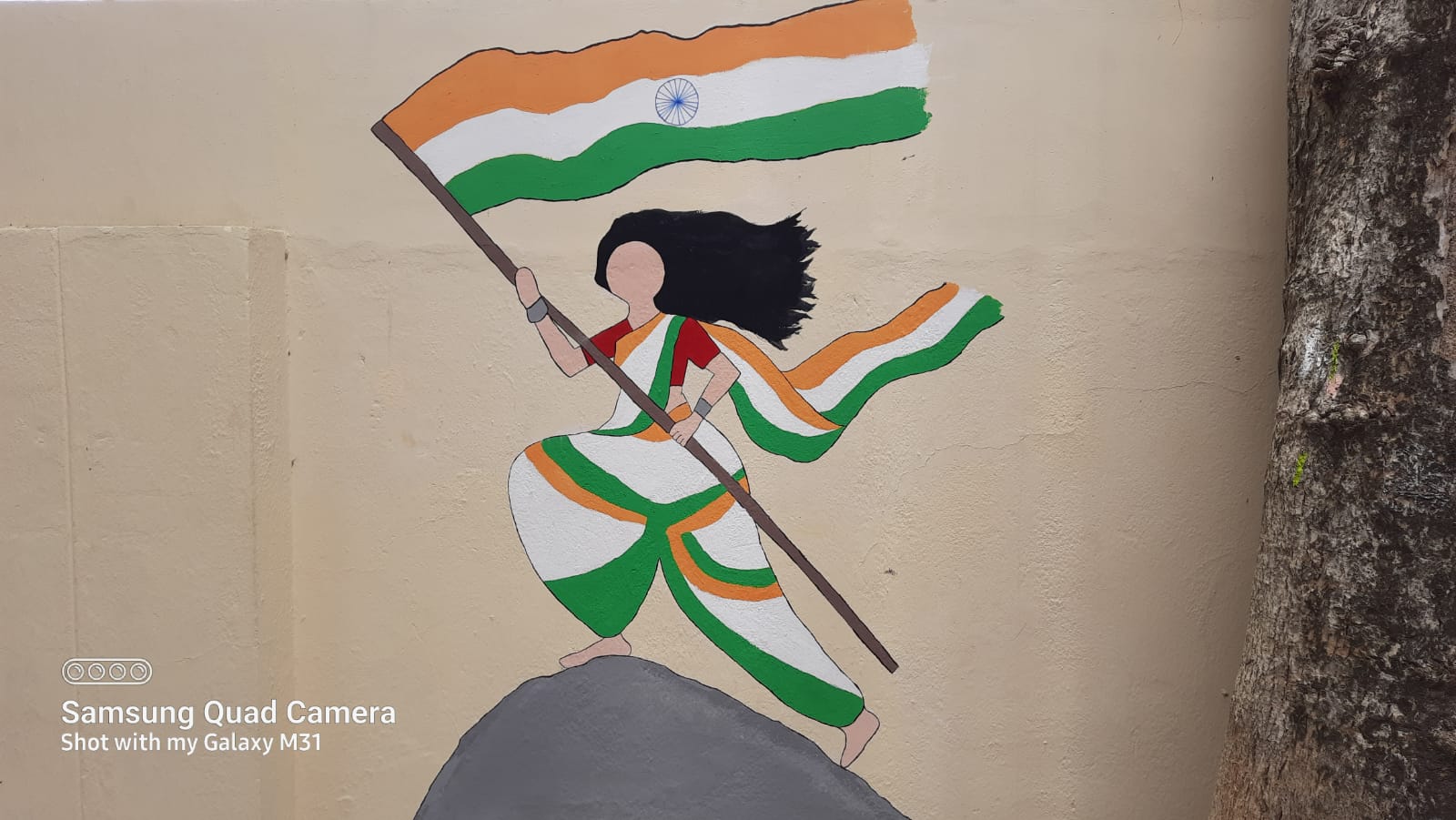 RAMANUJAN WEEK CELEBRATION - 2022
The Maths Department of P S Senior Secondary School celebrated the glory of Srinivasa Ramanujan by having a week long math Activities for students of class 6 7 8 9 and 11 which spanned from 24th January to 30th January.
The Program was an amalgamation of online and offline events, where students across sections of each classes showcased their interest and enthusiasm in competing in various activities in mathematics.
The plethora of event stretched from Math activities using paper folding technique, Explaining the details of mathematics through Geogebra (Technological enhancement), to solving math Olympiad questions.
A plentitude of activities enabled students to explore various math concepts beyond the curriculum which may not have been possible to experience during the regular classes.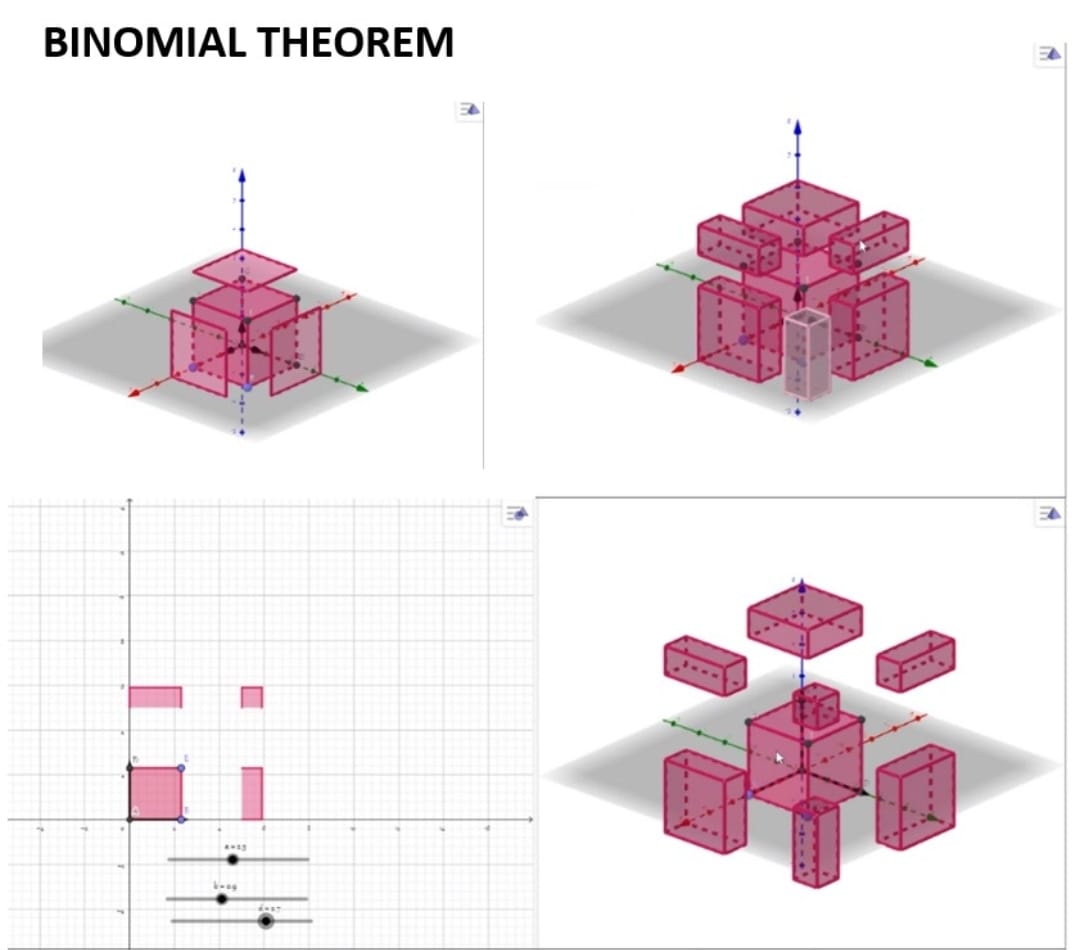 RHEOTRIC -DEBATING COMPETITION
February 18 dawned bright and early, and witnessed the school launching its very first inter-school debate competition, Rhetoric organised by the school debate team.
After a brief inauguration ceremony invoking blessings, school principal Dr. Revathy Parameswaran declared the event open after welcoming all the contestants. About a dozen city schools participated in the event which was held in online mode. The well-known Mr. Krishnakumar, an IPPF member, agreed to judge the final parley, battled out between PSBB Nungambakkam and Vidya Mandir teams. The finals were streamed in the school's premises, with debate enthusiasts from across classes spectating.
It was a close call between the final two teams, but the panel of judges decided on the PSBB Nungambakkam team as the winners.
The school Correspondent was the chief guest of the Valediction Ceremony and he declared the winners..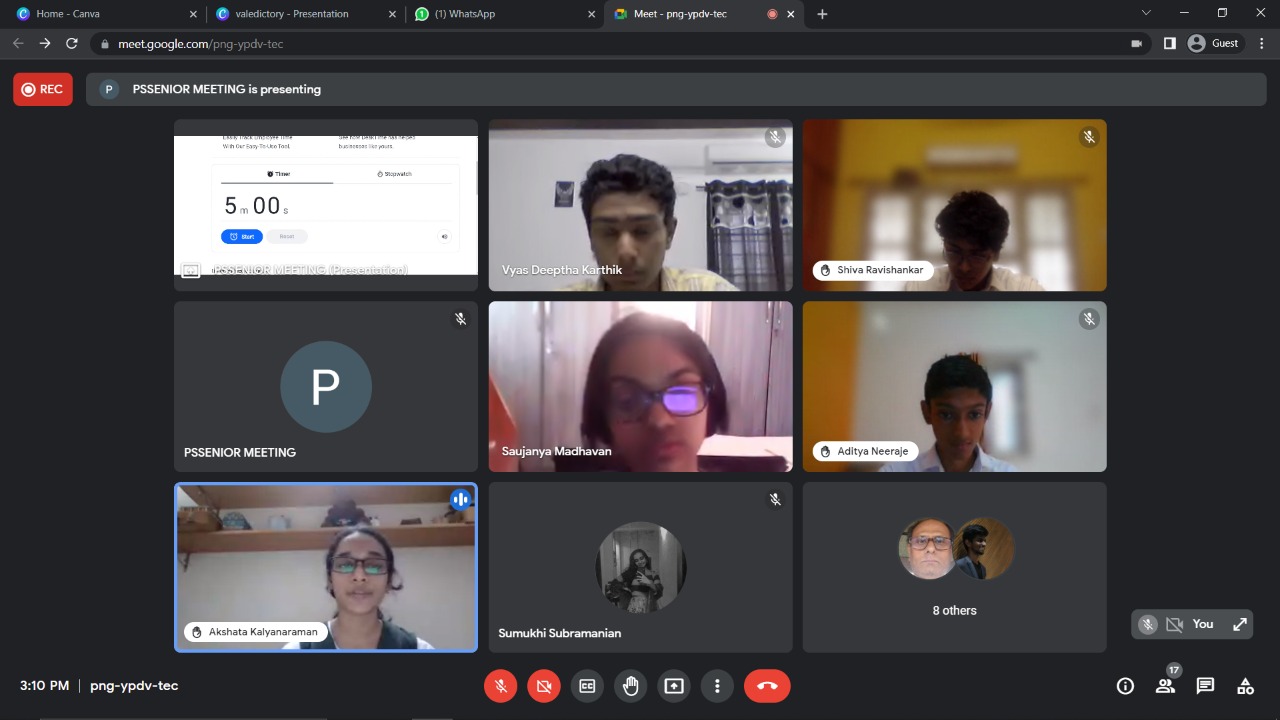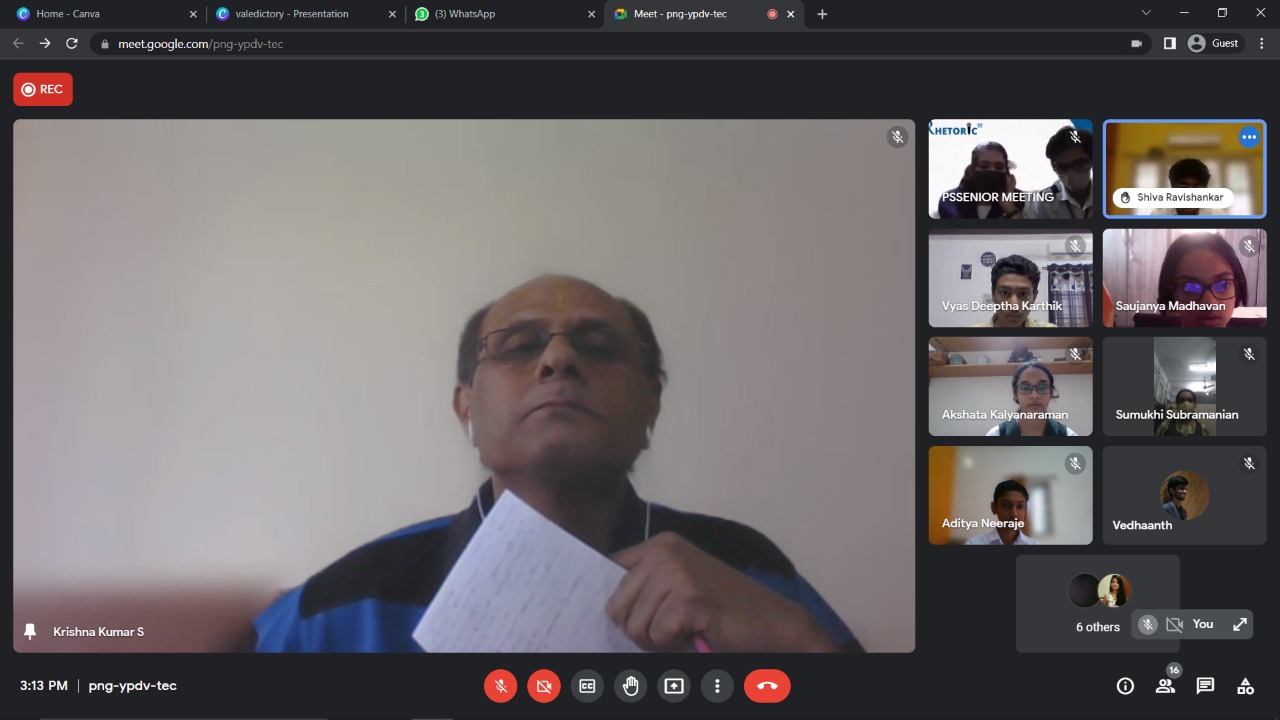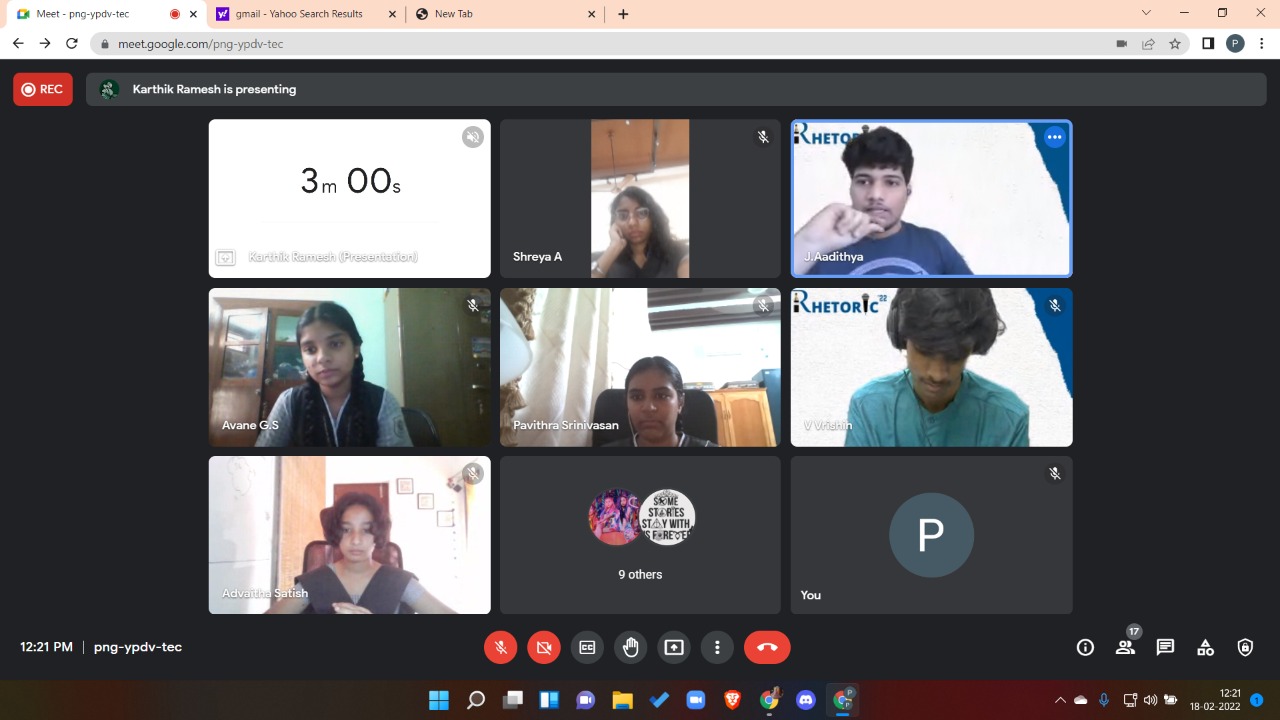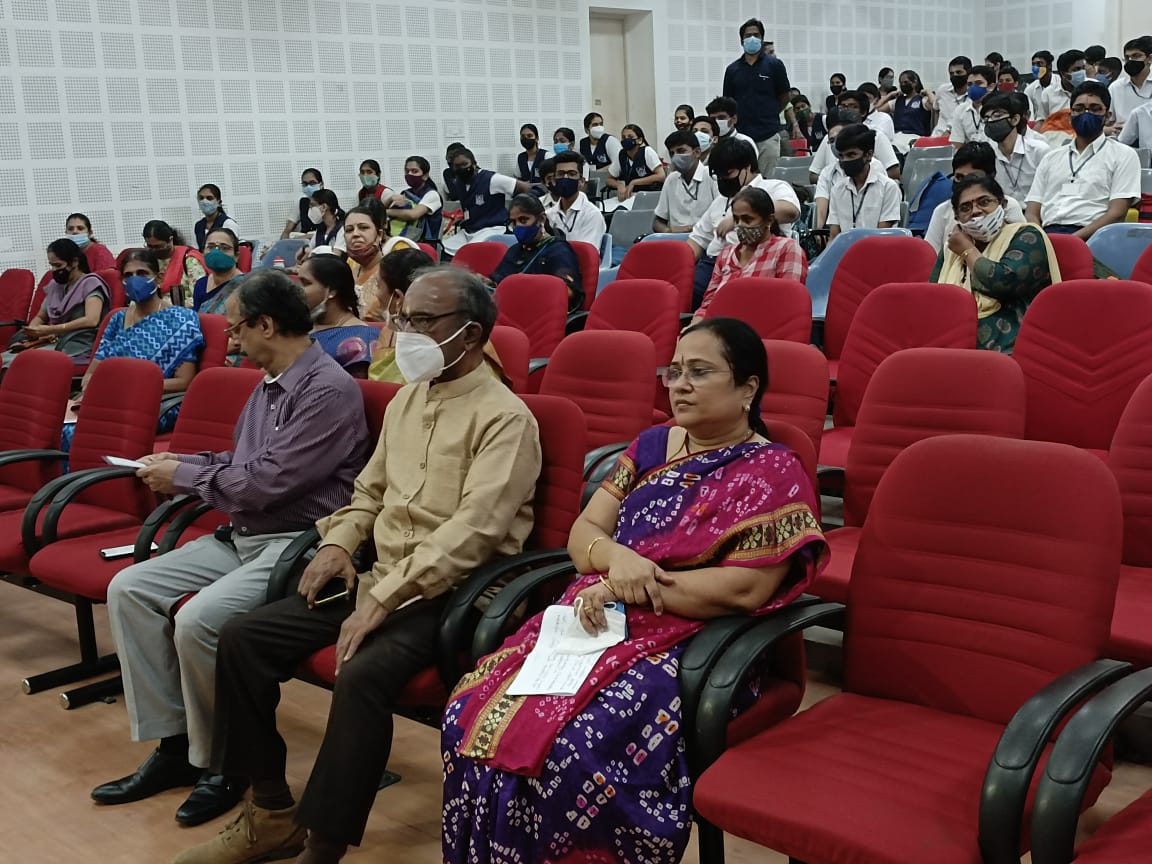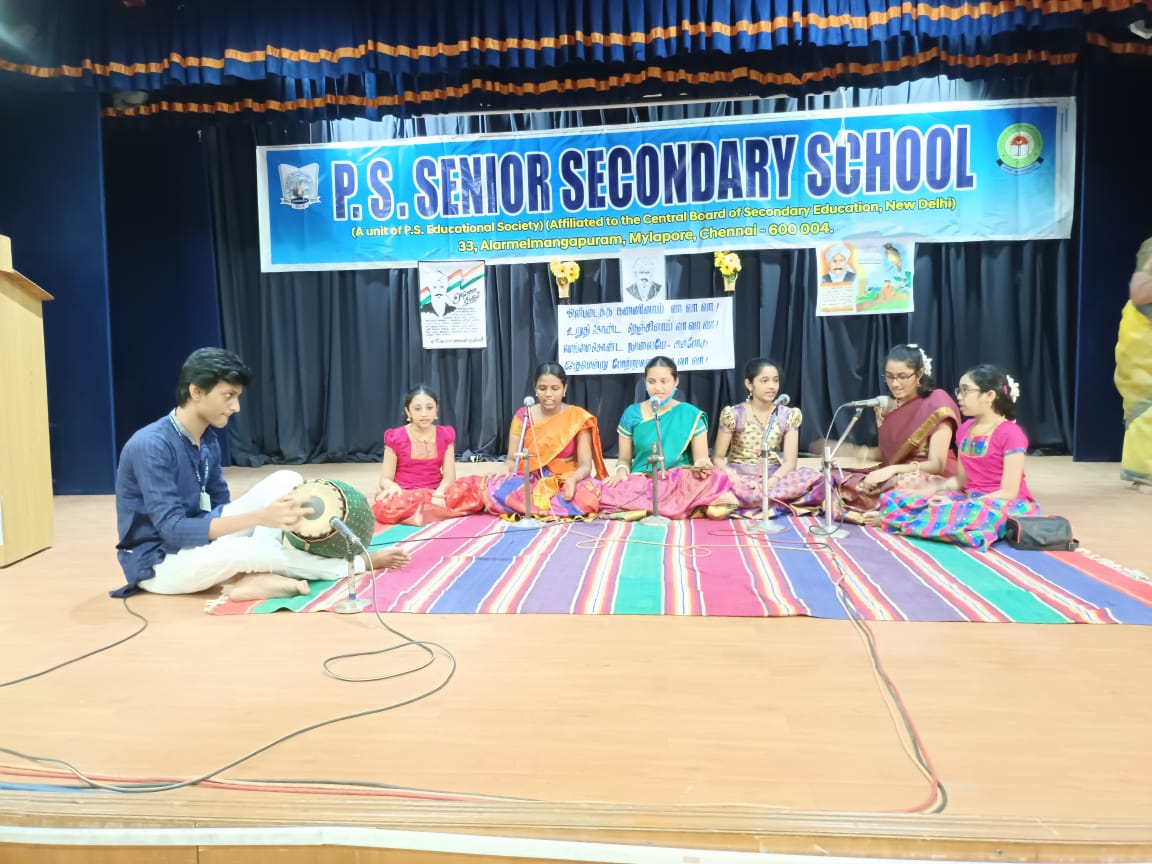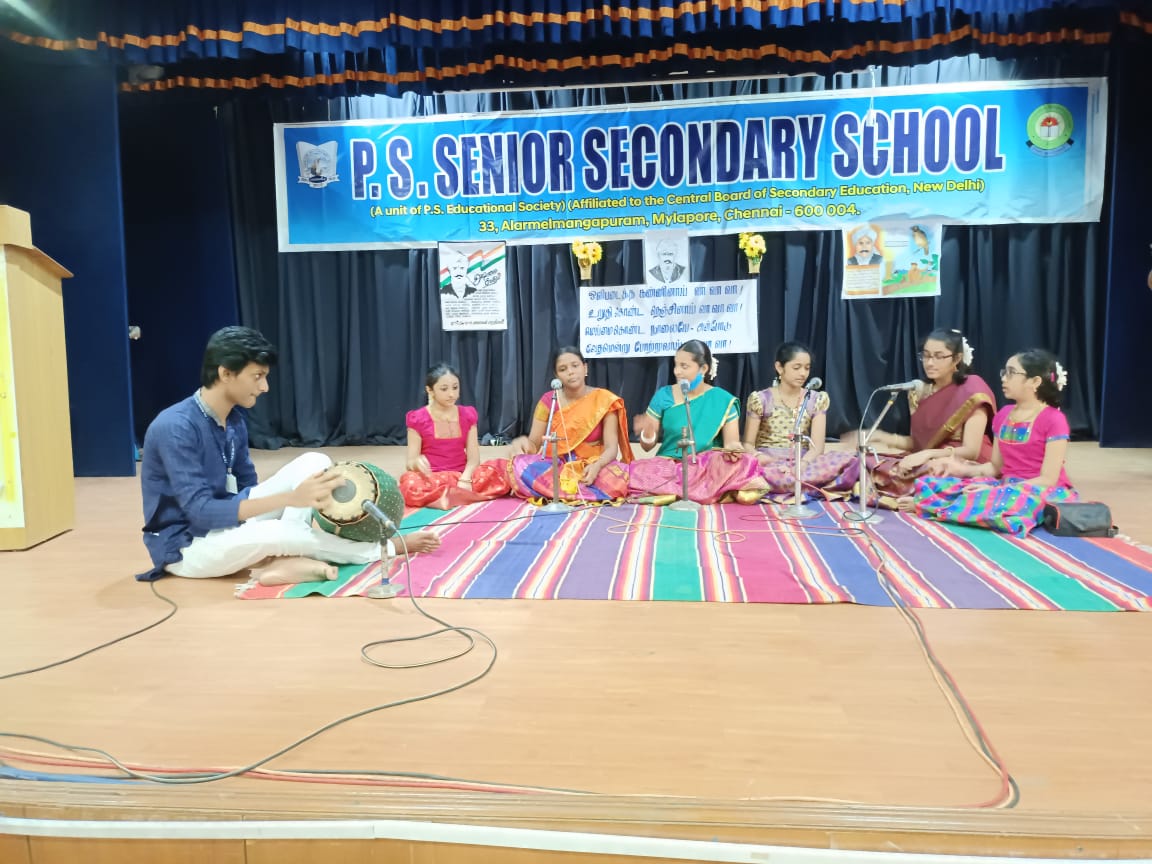 National Mathematics Day Celebrations
To commemorate the birth anniversary of Mathematician Srinivasa Ramanujan, 22nd December is observed as National Mathematics Day. Our Principal, Dr. Revathy Parameswaran, presented a lecture on "Infinity" as part of National Mathematics Day Celebrations.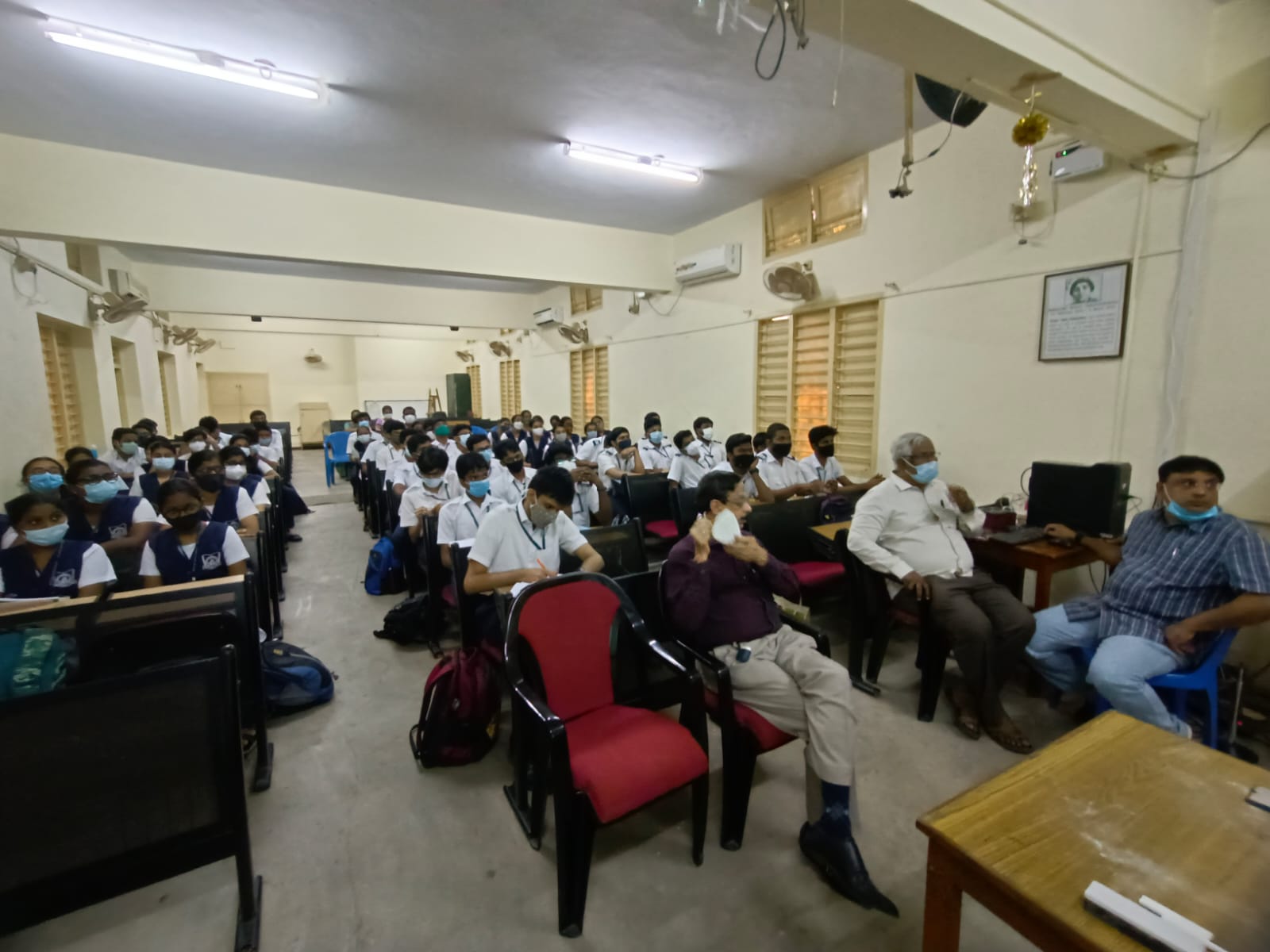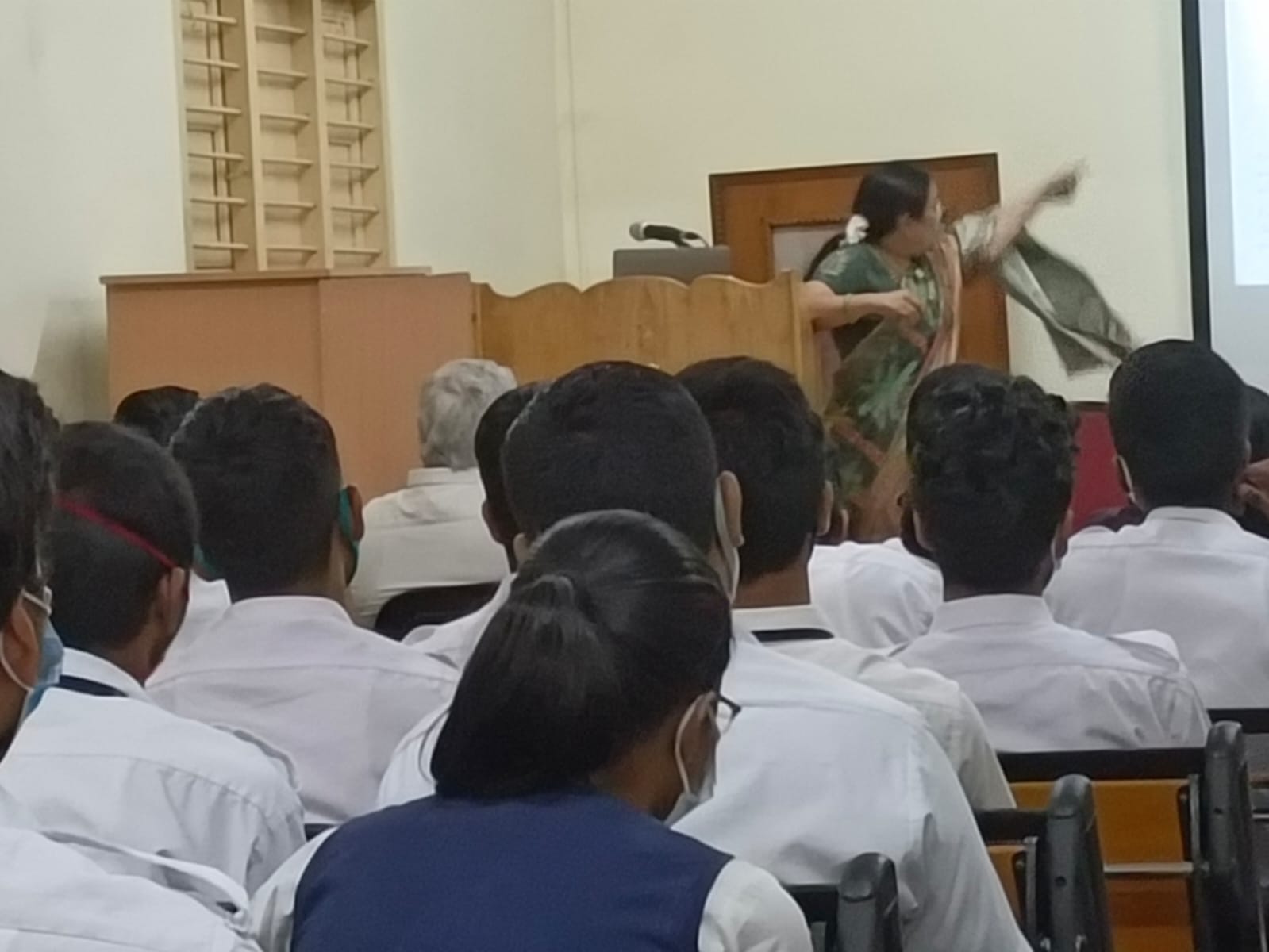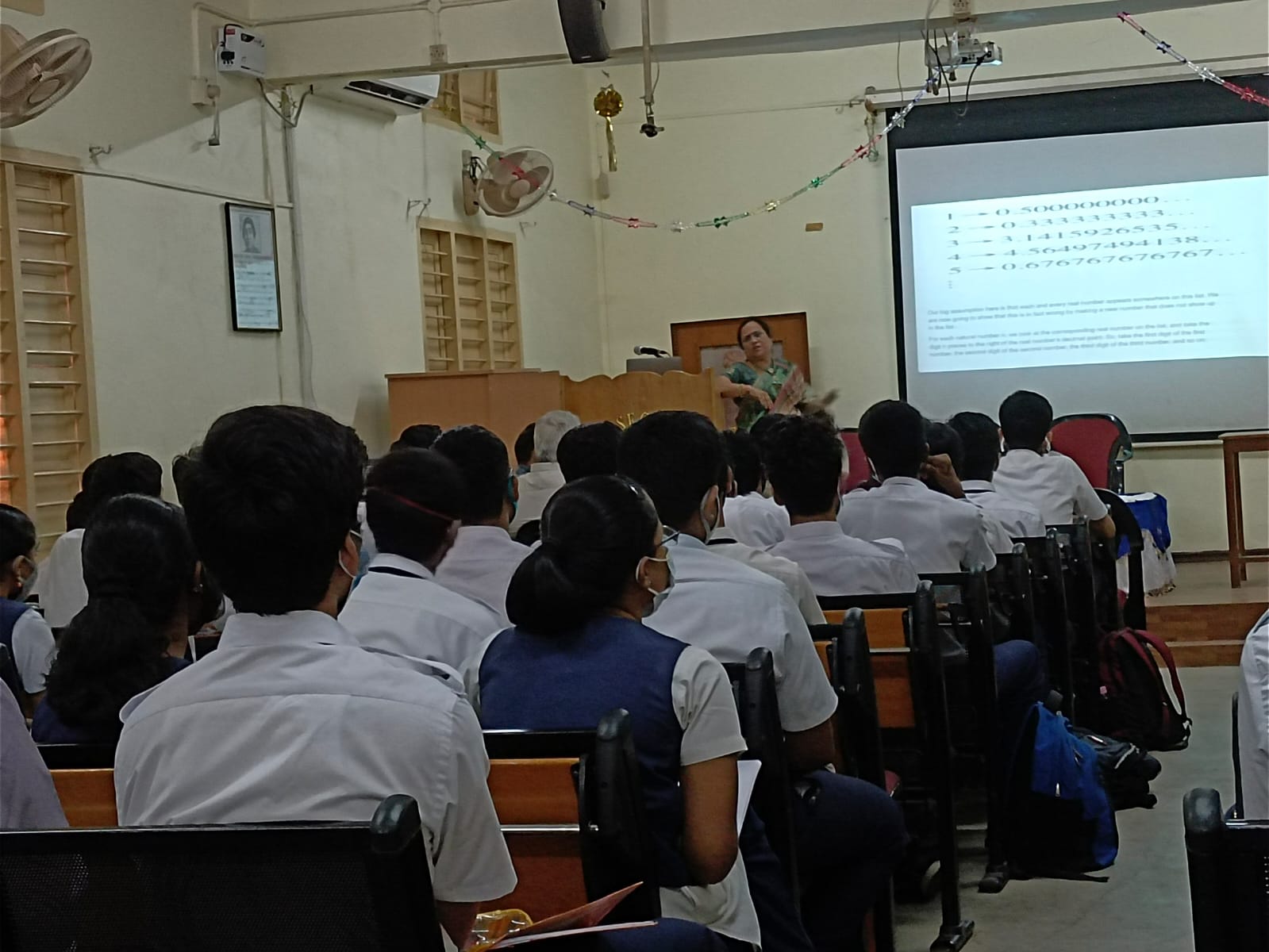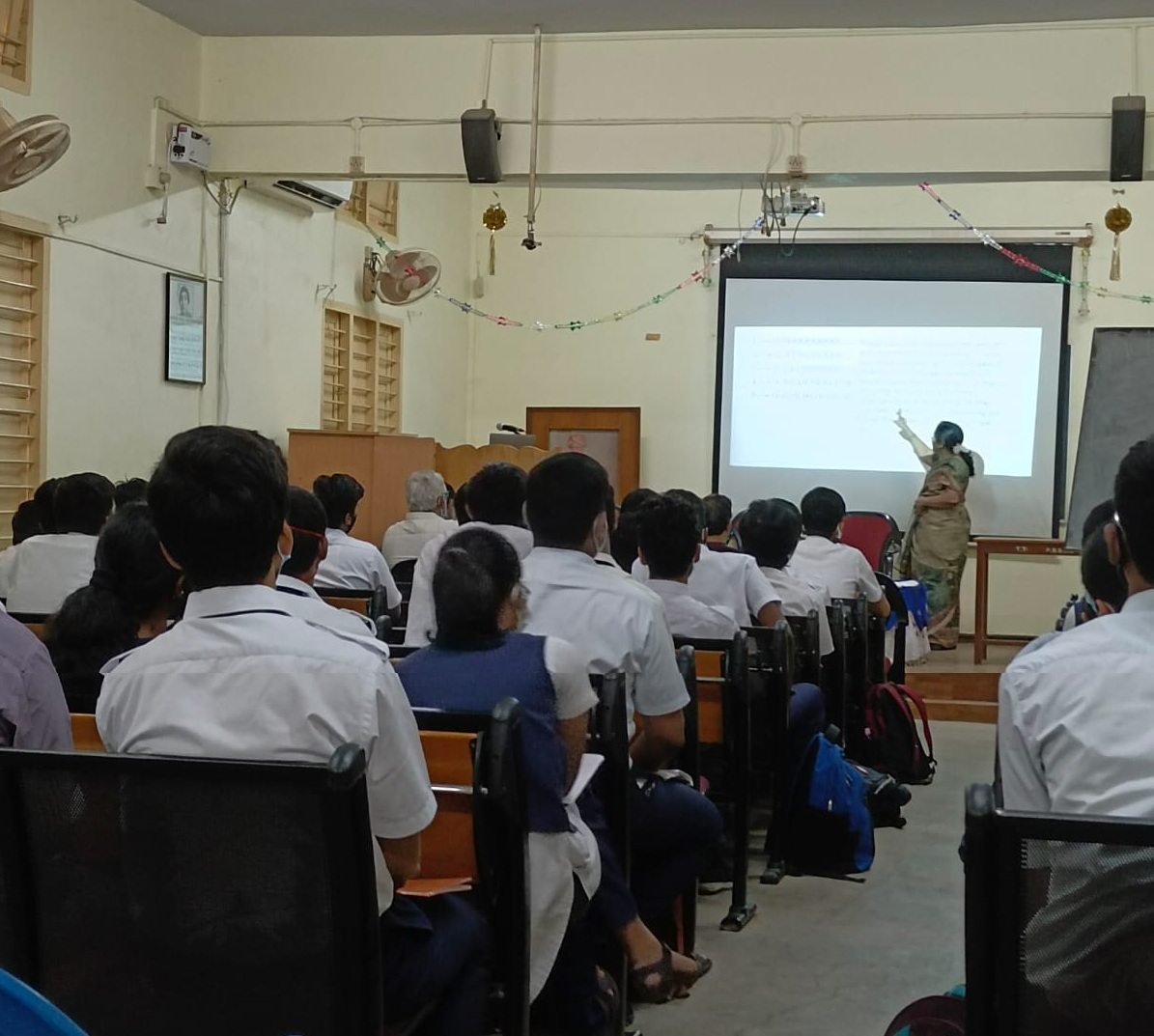 VACCINATION CAMP AT P.S. SENIOR SECONDARY SCHOOL
The students of classes 9 to 12 and in the age group of 15 – 18 are vaccinated with covaxine with the support of doctors and staff of Curie Hospital and YRG Care one of the largest NGO's in India.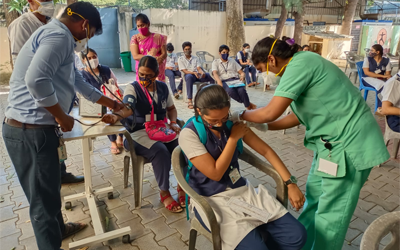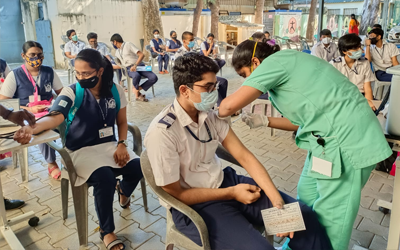 Olympiad Training Camp
A training camp (4 sessions of 2 hours duration) is organised for Mathematics Olympiad under National Board of Higher Mathematics.  The sessions are conducted online. E-certificates will be issued to students who attend all the sessions. Resource Persons : Dr. Sankaran Viswanath, Professor, Institute of Mathematical Sciences Dr. Anup Biswanath Dixit, Professor, Institute of Mathematical Sciences
Covisafe Program
Our school has geared up for reopening with all preparatory measures in place. As a part of the planning, a series of sensitization sessions in collaboration with Kauvery Hospital was conducted for the teachers and staff members of the school. During the first session of 'COVISAFE Program' organized on 23rd October, 2021, a team of doctors from Kauvery Hospital discussed various measures that need to be taken on the campus to ensure cleanliness, safety, hygiene and the physical and mental health of the students. They explained Hand washing techniques, choice of masks / proper mask wearing methods and social distancing protocols. Doctors have explained the standard operating procedures to be followed in case of a student showing any symptoms – earmarking a separate room for quarantine, contacting the medical team in Kauvery for further assistance. The doctors also emphasised the importance of vaccination, explaining the role of vaccines in curbing the spread of the infection.
Fitness India Movement 13-11-19
In accordance with CBSE initiative and to promote Yoga for emotional and physical well being students of classes IX and X performed different asanas.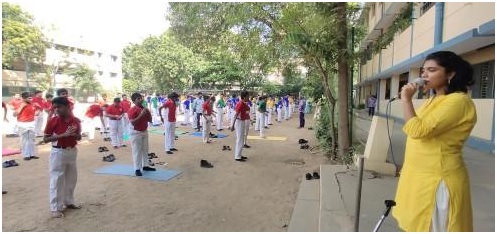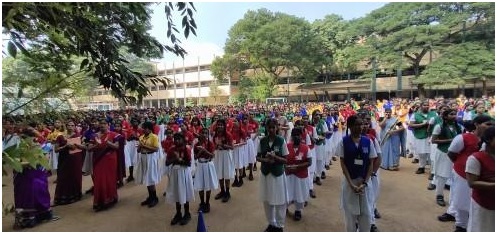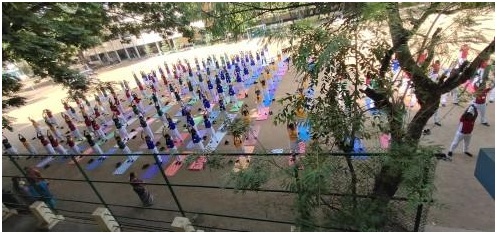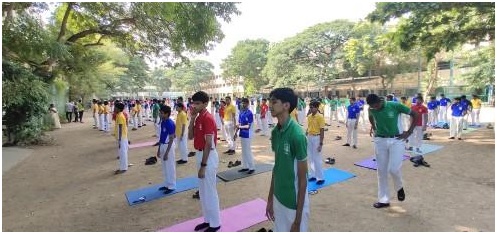 Inauguration of sri. C.V.Narasimhan memorial block 05-12-17
The inauguration of P.S. Senior Secondary School's "Shri. C.V. Narasimhan Memorial Block" was held on 22nd November, 2017. The block which houses the school's Digital Library has been dedicated to the memory of Shri. C.V. Narasimhan, the illustrious former Chairman of P.S. Educational Society.
Shri. E.S.L. Narasimhan, Governor of Andhra Pradesh & Telangana was the Chief Guest. He also delivered the first C.V. Narasimhan Memorial Endowment Lecture instituted by the P.S. Educational Society under the title 'Governance : Challenges Ahead'.
Present on the occasion were dignitaries including friends and relatives of late Sri. C.V. Narasimhan, President & members of P.S. Educational Society, Chairman and Members of P.S. Senior Secondary School, Former Principals, Senior Police Officers of the State and Trainee Deputy Superintendents of Tamil Nadu Police Academy.
Shri. V. Vaidyanathan, Chairman, P.S. Senior Secondary School welcomed the gathering. Dr. K.V.S. Gopalakrishnan highlighted the invaluable contribution of Shri. C.V. Narasimhan as a distinguished Police Officer as well as his contribution to the cause of Education. Shri. T.S. Krishna Murthy, President, P.S. Educational Society delivered the Presidential Address and Shri. R. Sivakumar, Correspondent, P.S. Senior Secondary School delivered the Vote of Thanks.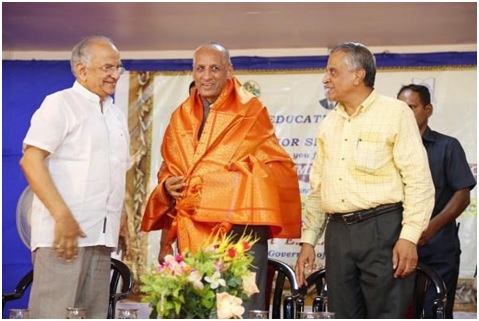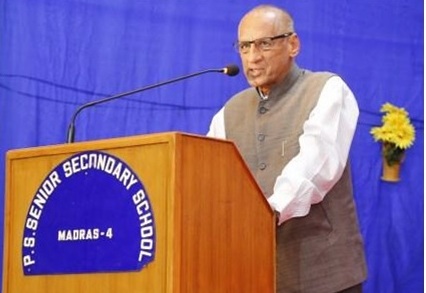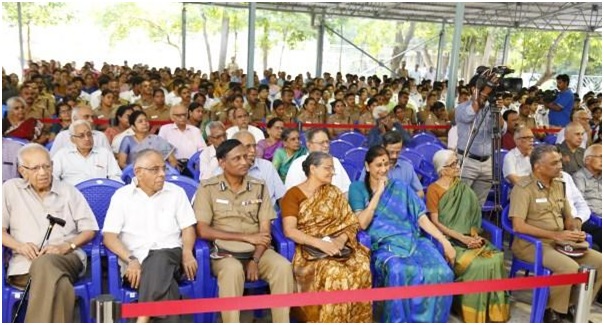 World Music Day 21-06-18
The Students of middle school ( Choir group -Rhapsody ) performing a Bharathiar song on account of world Music Day(21/06/2018).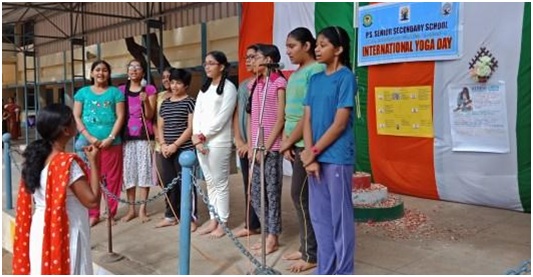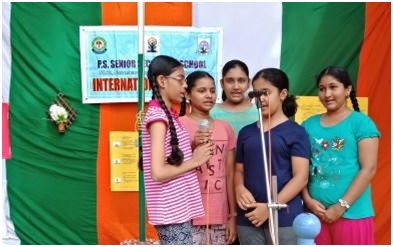 RO Plant Installation 04-07-18
New RO Plant installed in school. It can cater to the additional needs of water supply for the entire school. It was inaugurated in 04/07/2018.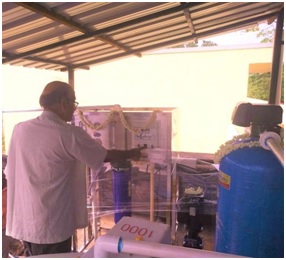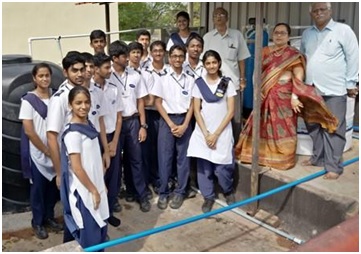 International Yoga Day 21-06-18
The International Yoga day (21/06/2018) was celebrated by students of classes VI,VII and VII participating in a lecture cum demonstration by Dr. Selvi. She has a doctorate in Yoga from Tami lNadu Sports University.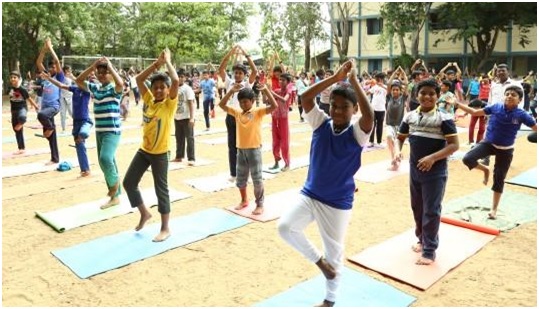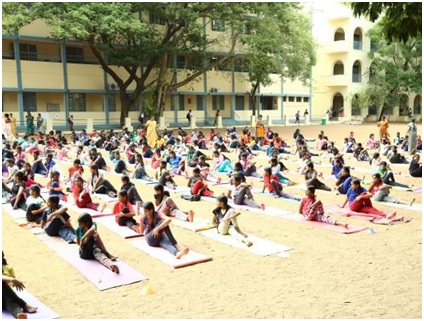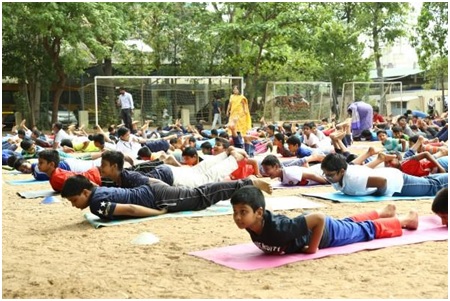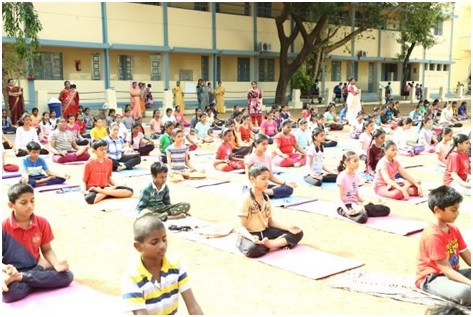 International Yoga Day 21-06-19
Yoga classes are now a significant part of the School Curriculum. The International Yoga day was celebrated in our school on 21/06/2019. Students of classes VII participated . They performed different asanas including Surya Namaskar. Principal ,Vice Principals and teachers also participated in the yoga session.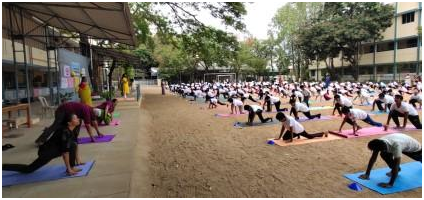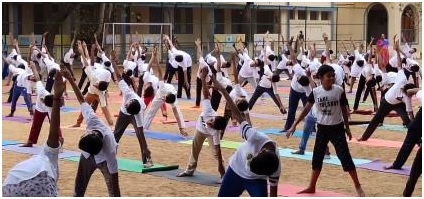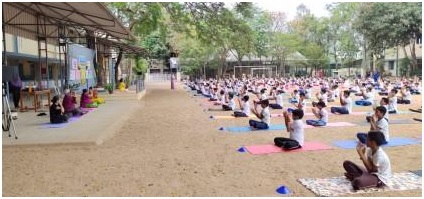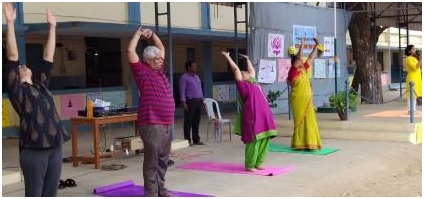 Swachhta Pakhwadha 03-09-18
As part of the SWACHHTA PAKHWADHA activity students taking pledge in the assembly followed by a speech on Swachh Bharath
Our School Students Performance at Music Academy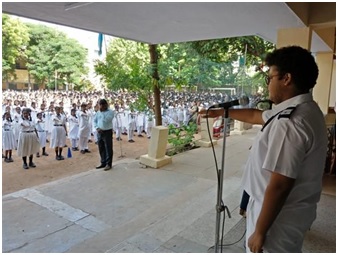 Mass Chanting of Vishnu Sahasranamam 22-08-18
Mass Chanting of Vishnu Sahasranamam by our School Students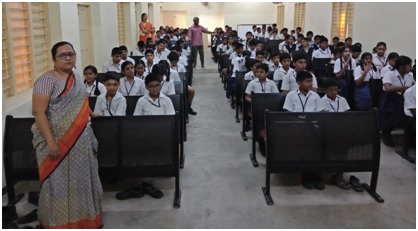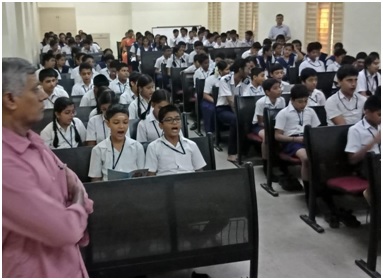 Swatandra Geetham 16-08-18
Smt D K Pattammal's centenary celebrations was celebrated in our school on 15th August 2018 with around 1000 students from our school and other city schools singing the patriotic songs sung by D K Pattammal.
The school hosted the program organized by D K Pattammal coordinators including several musicians like Shri Vijay Siva, Shri Shriramkumar and others.
Mrs Nityashree Mahadevan was the guest of honour.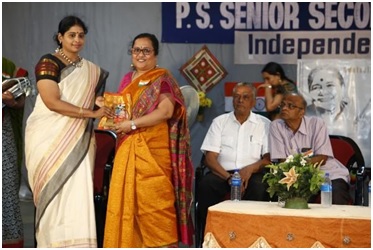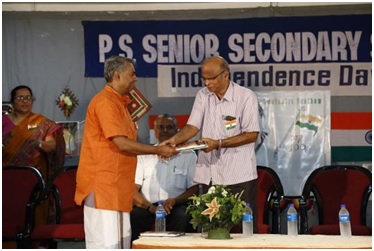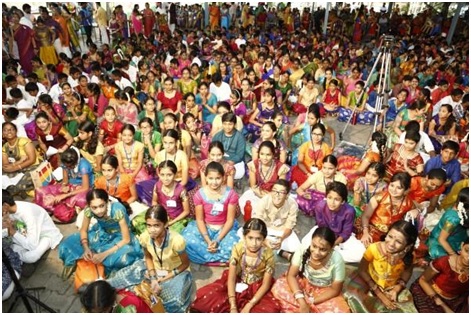 Inauguaration of New Cricket Pitch 09-09-18
New Cricket pitch was inaugurated on our school grounds.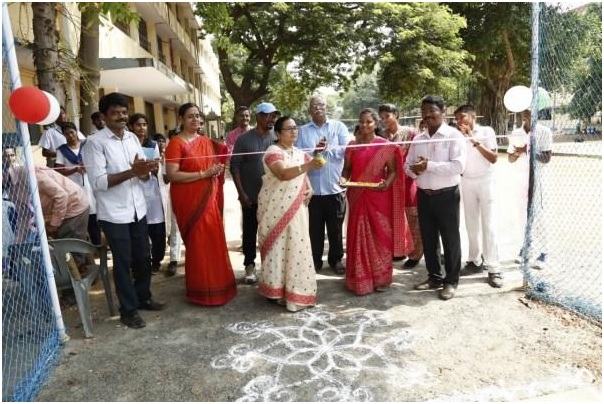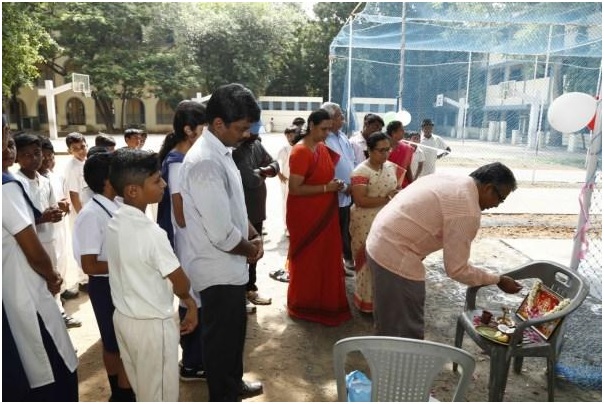 World Accountancy Day 12-11-18
World Accountancy Day was celebrated on 10/11/2018 in our school. It was organized by the Institute of Chartered Accountants of India.
Shri V Pattabiraman talked on the career options in the field of Accountancy. Shri S Ravichandran Senior executive officer of ICAI welcomed the gathering and our Correspondent R Sivakumar talked about the first woman Chartered Accountant of India.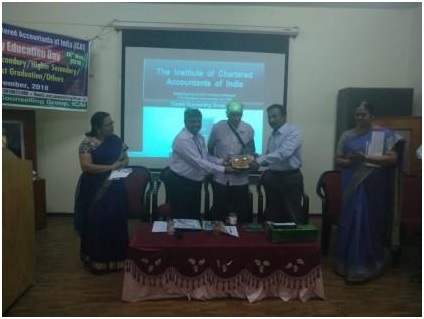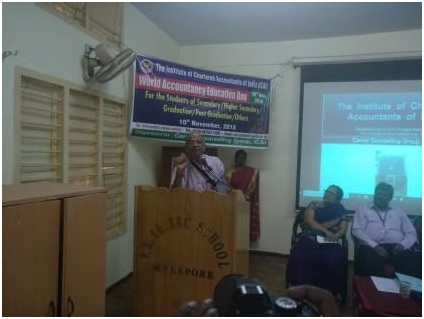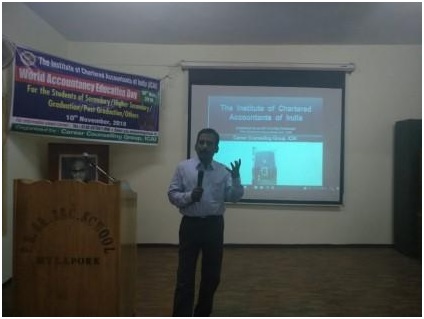 Children's Day Celebration 18-11-19
As a Part of Children's day celebration on 14/11/2019 various activities were held in our school.
A fancy dress completion was held for KG Students.
Renaissance an intra school cultural meet was held for classes 9-11.Students participated in various competitions like Carnatic vocal, Debate, Quizzing etc.
Students of classes 6,7,8 watched movies related to Science and environment.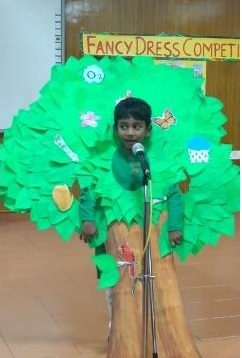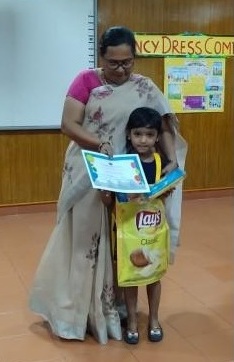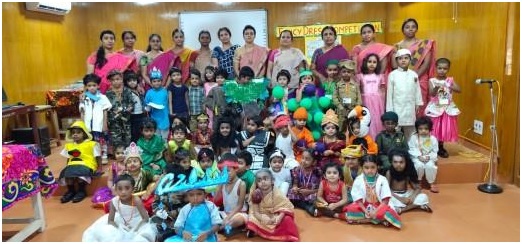 Children's Day Celebration 26-11-18
Children's Day was celebrated in our school. Programmes by KG students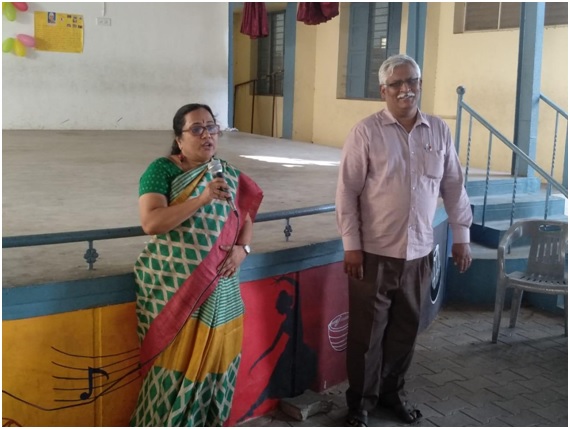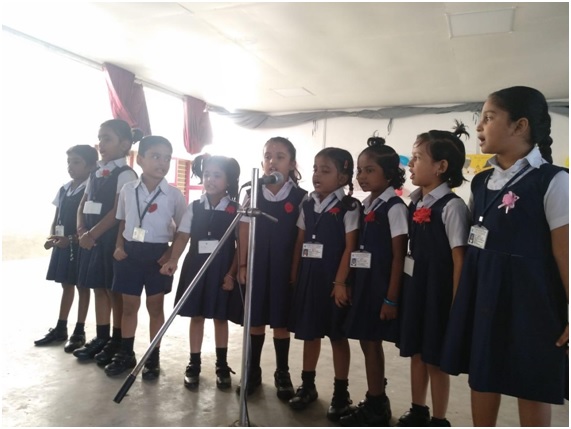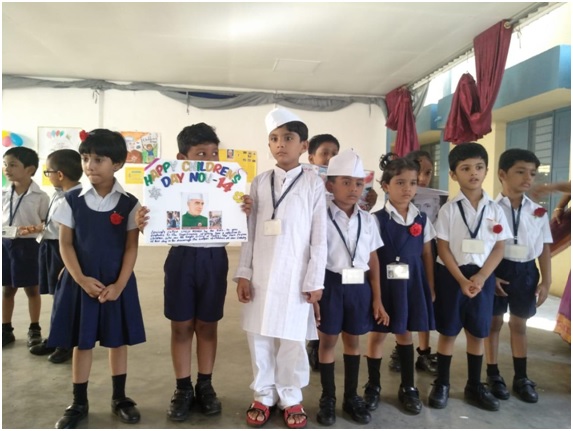 Graduation day – UKG 25-03-19
Graduation day for students of UKG at our school on 19/03/2019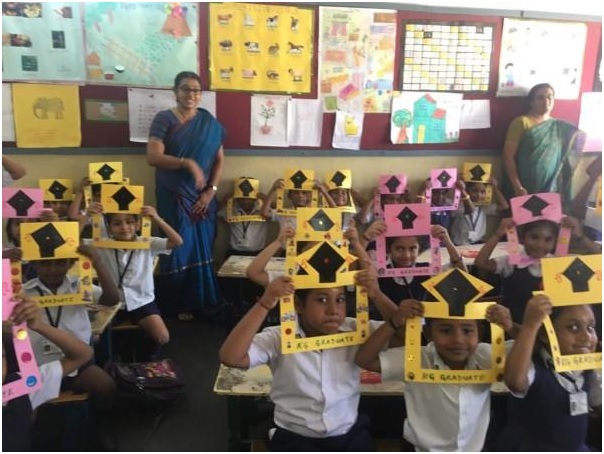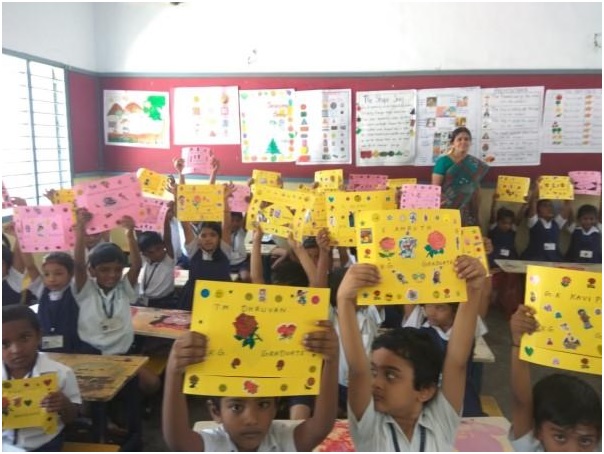 Cleaning of Chitrakulam Tank 03-09-19
As a part of the Cleanliness Drive for Swachh Bharat-Swachhata Pakhwada , Students of class 9 D and 9 E of our school participated in the cleaning drive of the temple tank. The temple tank was completely covered with grass and with some other unwanted things.
We cleaned a part of the temple tank by removing the grass and unwanted things. The cut grass was taken out of the tank to the road side and dumped in a corner with the guidance of the corporation manager.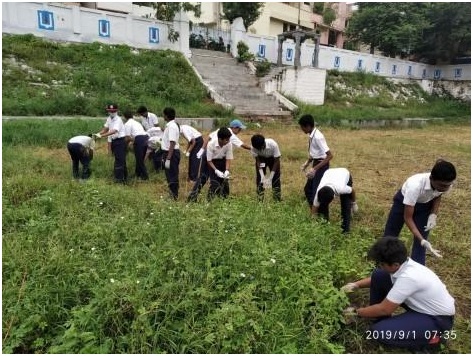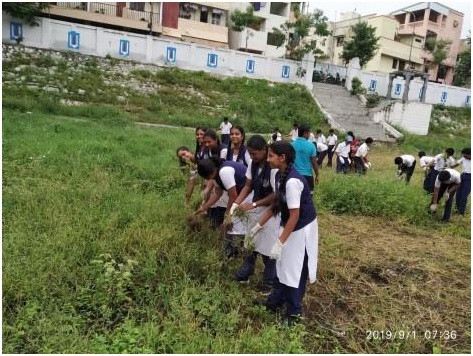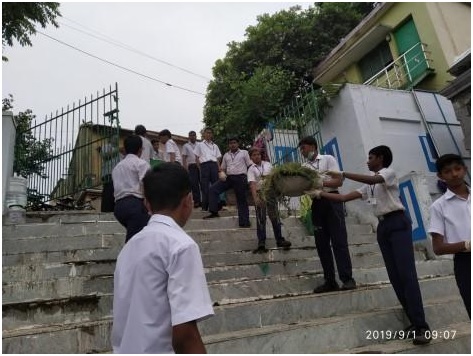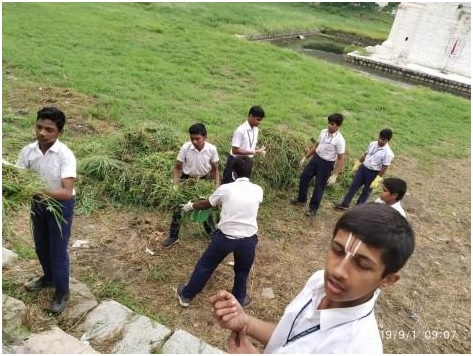 "YOU ARE NOT ALONE" – Mental Health Programme 08-07-19
The THE LIVE LOVE LAUGH FOUNDATION (TLLLF) conducted a lecture session for the students of VIII on 2nd and 3rd of July 2019.
The resource persons were Mrs. Vijaya Ramkumar, Consultant Psychologist, V-Excel Education Trust and Mrs. Sumathi, Counsellor V-Excel Education Trust.
The two hour sessions covered various topics ranging from understanding of mental health and illness to identifying symptoms of depression, stress and anxiety.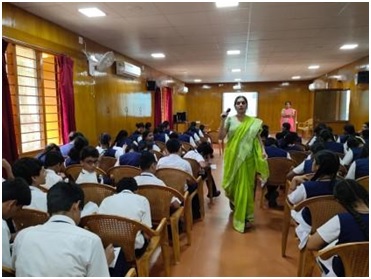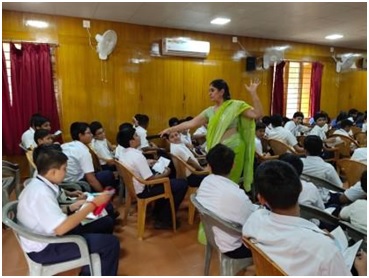 Rashtriya Ekta Diwas – 31st October 2019 31-10-19
Our school celebrated Rashtriya Ekta Diwas with various activities. The students took Rashtriya Ekta Diwas pledge. Our students and teachers took part in 'Run for Unity' lead by our Principal. Students of Classes VII and VIII spoke about the life of Sardar Vallabhai Patel. Essay competition on the life of Sardar Vallabhai Patel was organized for classes VII and VIII.
Our class VIII students prepared Charts and posters depicting National Unity Day.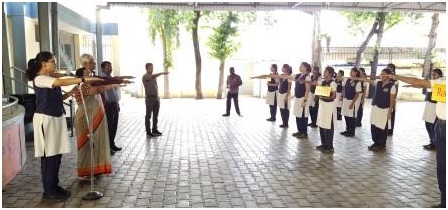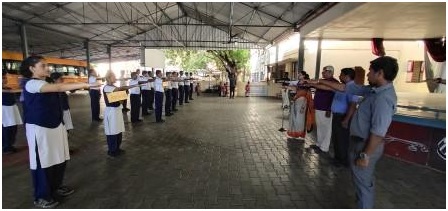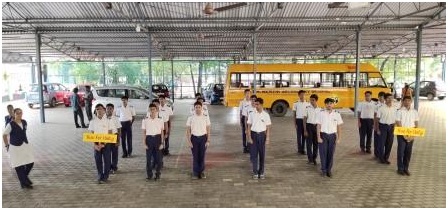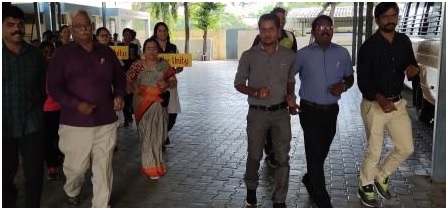 Scholarship Day 13-11-19
Scholarship Day – 48 students of our School were given merit-cum-mean scholarship.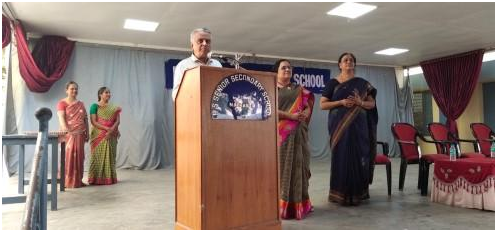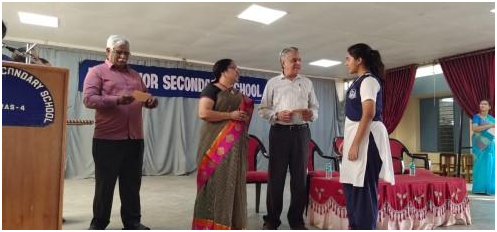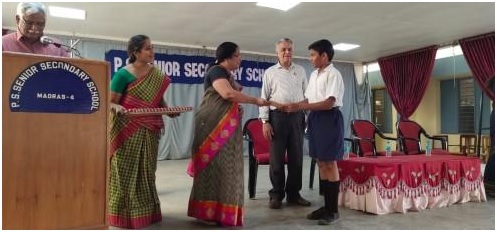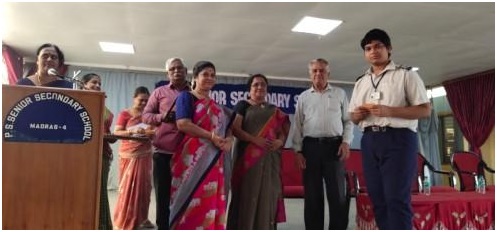 Dengue Awareness Program 18-11-19
Dengue awareness program was conducted in our school. The sanitary Inspector, corporation of Chennai, addressed the Students.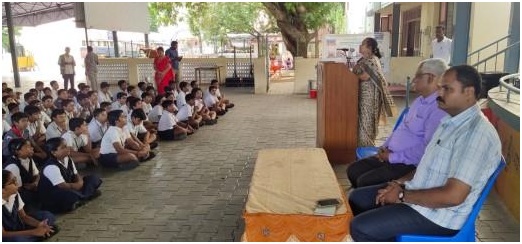 Pongal Celebrations 14-01-20
Pongal Celebrations at P S Senior Secondary School -13/01/2020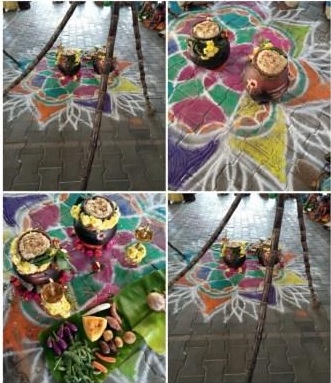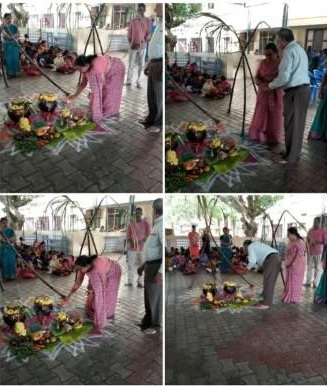 Republic Day Celebrations 28-01-20
Republic Day Celebrations (26/01/2020) at our School.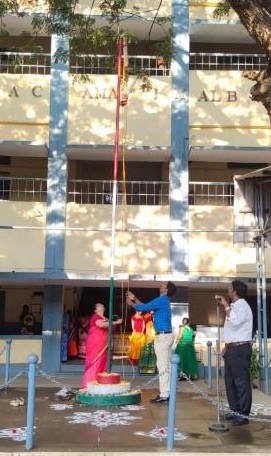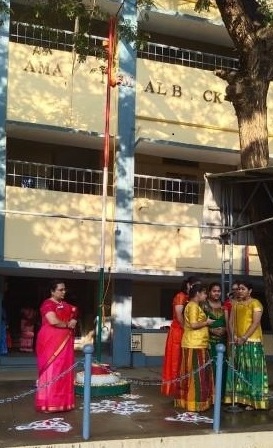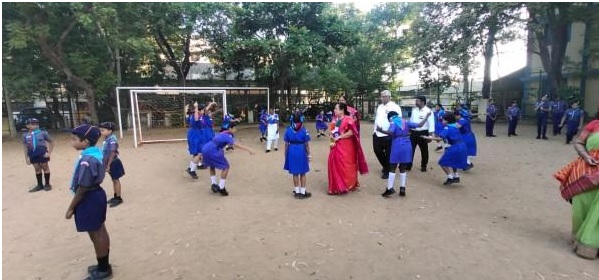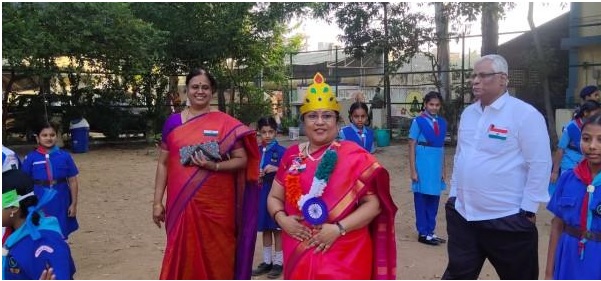 Mahatma Gandhi's 150 th Birth anniversary celebrations 28-01-20
The 150th birth anniversary celebrations of Mahatma Gandhi was inaugurated by Prof Shanmugam, Retired Commissioner of K V Schools on 27/01/2020. An exhibition containing posters depicting the life of Mahatma Gandhi was inaugurated by the Chief Guest.
Children performed skits in English and Tamil. Teachers read excerpts from 'My Experiments with Truth' autobiography of Mahatma Gandhi.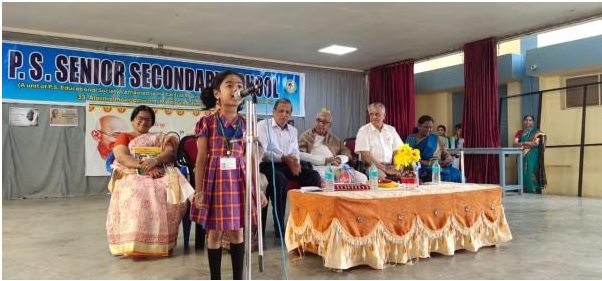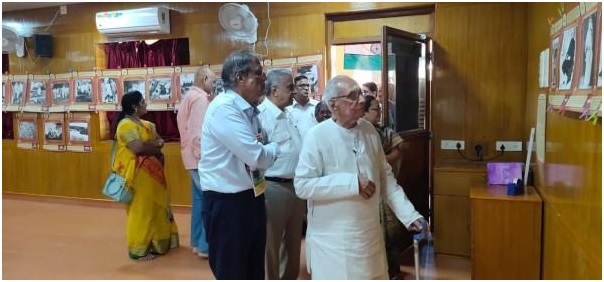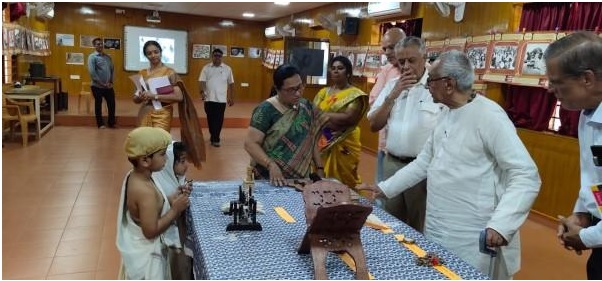 Pre-Kg / Grand Parents' Day 14-02-20
PRE-KG DAY/GRAND PARENTS' DAY was celebrated on 13/02/2020. The Pre-KG kids showcased their talents through various cultural programmes. Grandparents shared their valuable experiences with the gathering.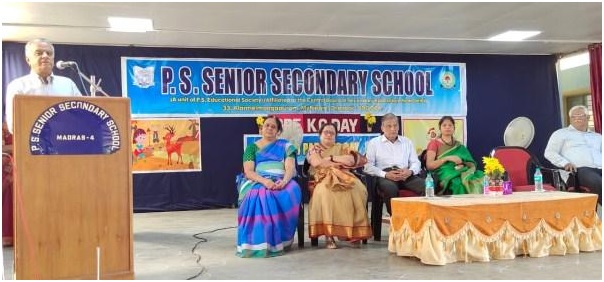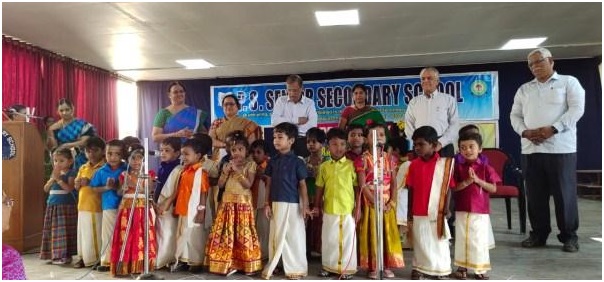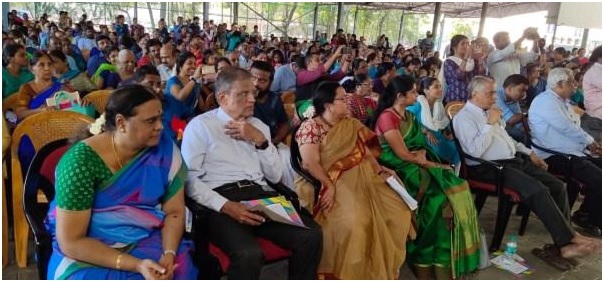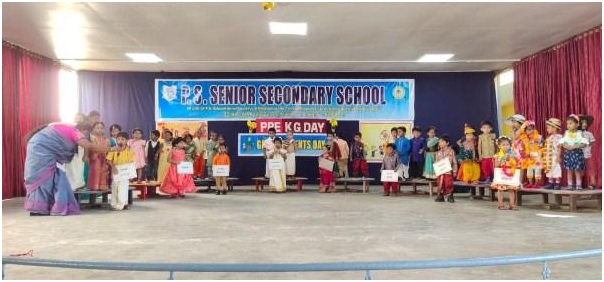 National Youth Day Celebration 13-01-21
To commemorate the 158th birth anniversary of Swami Vivekananda, National Youth Day was celebrated with fervour on 12 January 2021. Sri S Ma Ramanan, resource person for the Awakened Citizen Programme of Sri Ramakrishna Math was the chief guest. His speech to the students gave an insight into the life of Swami Vivekananda and enlightened them on his principles. The students of classes 8 attended the program . Also essay , poem and art competitions were conducted on themes relating to the teachings of Swami Vivekananda.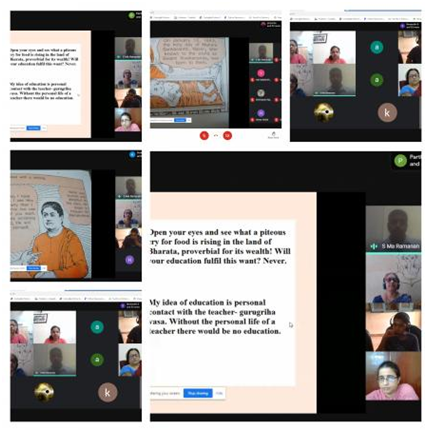 Republic Day Celebrations 26-01-21
Republic Day Celebrations (26/01/2021) at our School.