Congratulations Shakthi Muralidharan - Winner of Times Thyagaraja Awards of 2022
Shakthi Muralidharan of Class X won the Times Thyagaraja Awards of 2022 at the Grand Finale held at Music Academy on 26/02/2022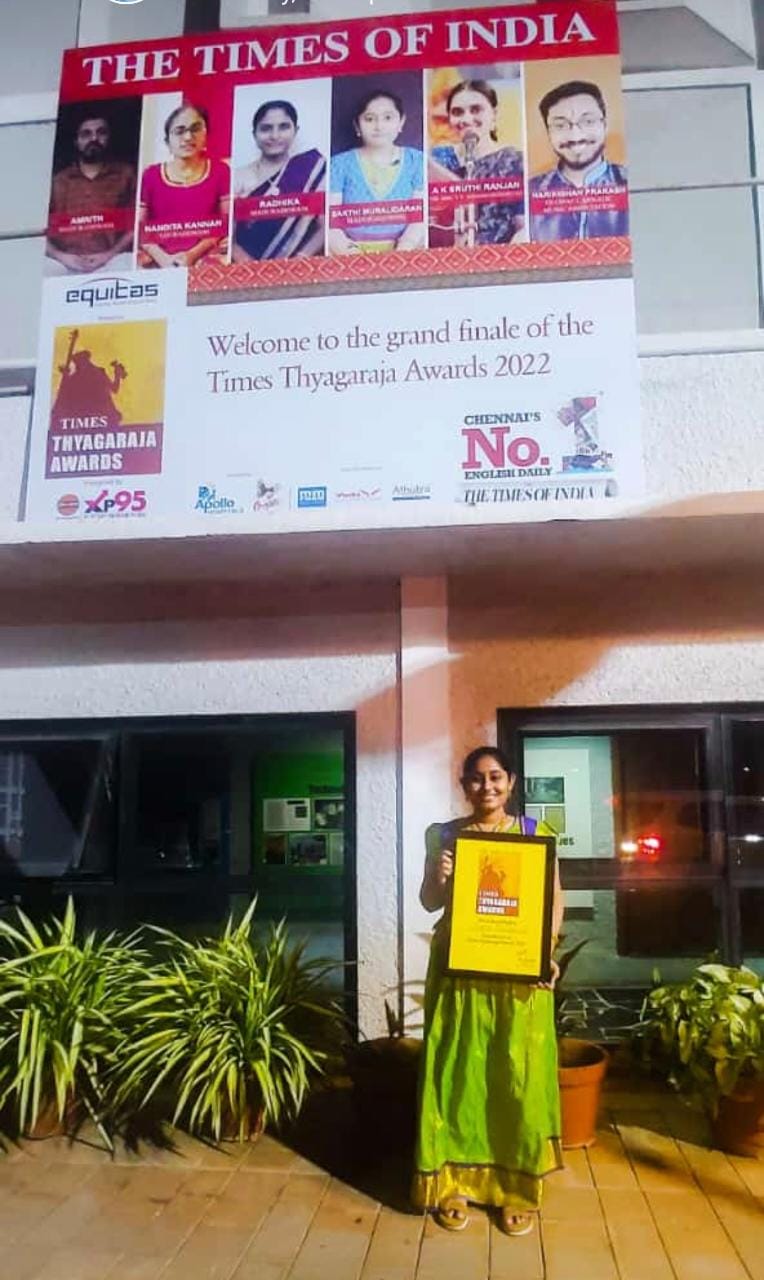 Congratulations Mukund Bharadwaj L
MUKUND BHARADWAJ L of class 12A secured 2nd place in Kala Utsav (a national level competition conducted by the Ministry of Education and NCERT,Govt. of India) in classical vocal music category representing TAMILNADU. He had earlier secured 1st place in the district level competition held at Chennai and state level competition held at salem and qualified to represent the state in the national level.
Kala Utsav is an initiative of the Ministry of Education (MoE) under Rashtriya Madhyamik Shiksha Abhiyan, to promote arts in education by nurthring and showcasing the artistic talent of school students at the secondary stage in the country.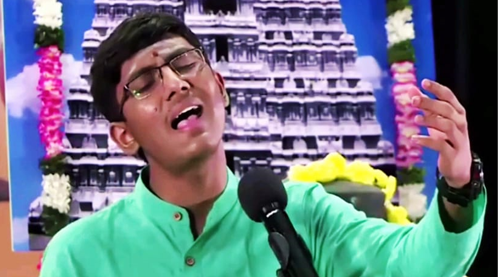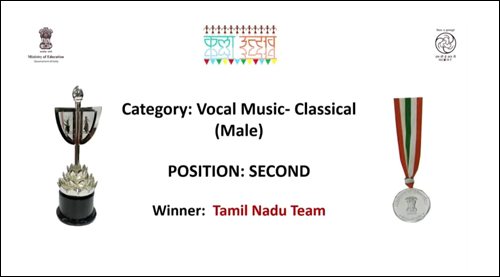 Congratulations Hansini
Hansini M of Class 7D has won the title in Under 13 category in World Table Tennis Muscat Youth Contender Tournament and runner up in under 15 category. She received the trophy from Highness Sayyid Fatik bin Fahar al-Said, Prince of sultan of Oman
Congratulations Advaith and Srishti
R.S. Adhvaith of Class XI D and R.S. Srishti of Class IX C were selected to perform instrumental music (Flute and Violin) at Parliamentary House on 18.09.2021 at 4.10 p.m. during the 100th Death Anniversary of  Mahakavi Subramania Bharath
ACADEMICS
2018 – Padagogische Autausch Dienst (PAD) is a prestigious scholarship offered by the Government of Germany to students who do exceedingly well in German Language and are in the age group of 15-17 years. Only 8 students are selected from India and S R Rammyasri of XIB of 2018 batch was the only student from South India. She spent one month in Germany ,visited German Schools and collaborated with students from other countries.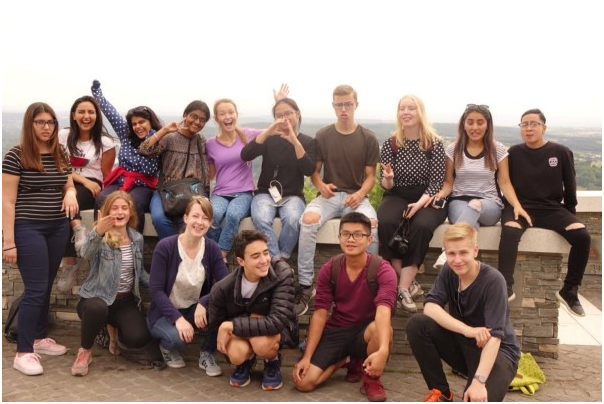 Several of our students have done excellently in the International Olympiads –
Mathematics:
1999-2000: Aravind Narayanan: Silver Medal (Bucharest, Romania)
1995-1996: Sumankar Shankar: Silver Medal (Toronto, Canada)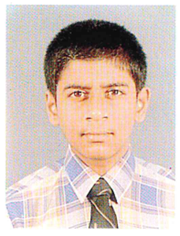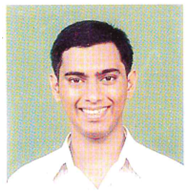 Biology:
2007-2008: P G Nandan: Silver Medal (Mumbai, India)
2004-2005: Anand Venkatraman: Gold Medal (Beijing, China)
2002-2003: Srivats Madhavan: Bronze Medal (Minsk, Belarus)
2001-2002: Sruti Srivatsan: Bronze Medal (Jurmala, Latvia)
1999-2000: S.Ashok: Silver Medal (Antalya,Turkey)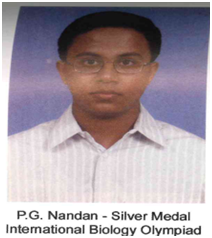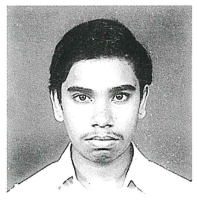 Chemistry:
2005: G Karthik: Silver Medal (Taipei, Taiwan)
2002-2003: V Aravindan: Gold Medal (Athens, Greece)
2002-2003: B Vikram: Silver Medal (Athens, Greece)
2001-2002: Arjun Krishnan: Bronze Medal(Groningen, Netherlands)
Informatics:
2014: Prashant Mahesh: Bronze Asia-Pacific
2009: V Prashant: Silver Medal (Bulgaria)
2007: B Venkatesh: Represented India (Zagreb, Croatia)
2006: S Swarun Kumar: Bronze Medal (Merida, Mexico)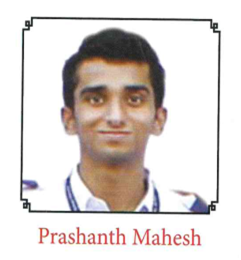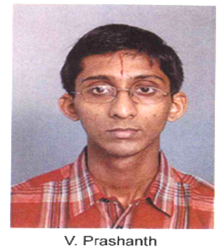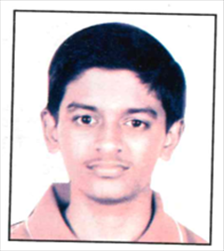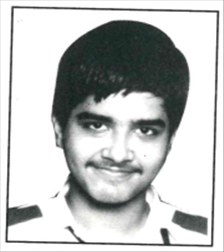 Astronomy and Astrophysics
2014: Shruthi Sridhar: Silver Medal (Suceava,Romania)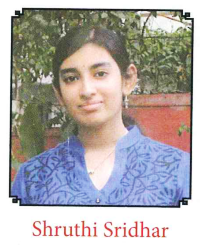 CO-CURRICULAR
2017 – Elakiya Ananthakrishnan of Class XI was adjudged the Fourth Best Speaker in the Asian World Schools Debating Championship contest held in Bangkok during the last week of July 2017.Supriya Suresh of Class XII secured the sixth position. They were declared "Novice Champions"
Anirudh's team topped the South Asia level and was ranked 12th in the world in the World Scholar's Cup - Tournament of Champions at Yale.Guhan shone in Debate winning Honor medals for individual and team debates. They were ranked 4th worldwide for Debate